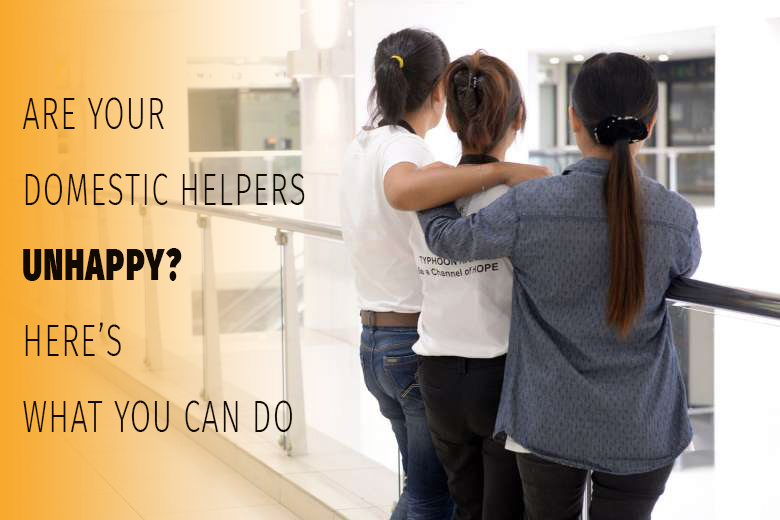 For any homeowner, it is common to encounter domestic helper who seems to be unhappy about the state of things and the work condition at home. Are you facing this situation recently? Is your domestic helper showing signs that say she is not happy with the work and working condition? Are you feeling uneasy in dealing with her unwilling and stubborn behavior? If any of this contributes to the unhappy and grim atmosphere at your home, you should be alert and do something about it.
To deal with the unhappiness of your homemakers and to ensure an agreeable and pleasant atmosphere, we can suggest you following some basic yet necessary principles and tips while employing a domestic helper for your home. Have a look at the following tips.
1. Mention the job responsibilities in the start
We often forget to provide the details of the job responsibilities while employing a domestic helper. Most of the time we prefer to tell her about the gross nature of the work she is expected to do and miss out the details. This, in the long run, causes problems as the helper things she is forced to do a lot of things she is not entitled to. When you explain all the necessary domestic works she has to take care of, she is most likely to show reluctance to duties that are part of her contract as a helper.
While providing details of her job responsibilities at the very beginning, always mention in terms of working hours and the kind of labor involved. Remember, mentioning such details may be annoying at the beginning, but with this, in the long run, you are actually buying peace of mind.
2. Always pay her in time
This is one of the common issues that silently eats away the confidence and mutual trust in your relationship with the domestic helper. Remember domestic helpers in cosmopolitan and modern cities like Hong Kong need to struggle enough to meet their ends as living cost in this part of the world is pretty high. Moreover, a timely pay makes them feel obliged and duty-bound while the delay in payment makes them more insincere about their responsibilities. Over time this contributes to their dissatisfaction and unruly attitude. So, if you want to be at peace with your helper pay her within a specific time as promised at the beginning.
3. Don't lend her too much
Many of us have experienced this. In spite of paying your maid timely and at regular intervals, you may find her requesting for an advance to meet some emergency cost. From humanitarian ground or sympathy, we often respond to such request. But when you have already lent her salary for few months in advance, you won't be able to let her go empty-handed just for repaying the dues. But any subsequent deduction from the salary to repay the dues will make her unhappy. Instead of lending salaries in advance, pay her some money to meet the emergency cost and do not deduct the same from her salary.
4. Behave respectfully with her
This is one vital aspect that many families terrible lack. They just cannot consider their domestic helpers as professional workers and this attitude shows in their day-to-day behavior. A domestic helper having been treated with disrespect is likely to become more stubborn, unwilling and distrustful. Over time, this takes out the warmth and mutual trust completely from your relationship with the helper. You need to sensitize your family members and kids about the professional nature of their job and the respect it deserves.
5. Do not quarrel and hurt ego
Most quarrels in domestic scene take an emotional turn, and people end up hurting each other's sentiments. Often such heated quarrel makes a permanent impression on mind seeding the root of unhappiness and distrust. It is no different with the domestic help. If you recognize any conversation centering on the difference of opinion is slowly heating up, postpone the conversation instead of continuing with it. Just by telling your helper a few abusive words you can lose her trust forever. Always be a little sympathetic if they prove themselves outdated for certain things.
6. Never bring her into your family brawl
It is not entirely uncommon in families when all of a sudden domestic helper finds herself in the middle of a heated brawl among the family members. When the conversation turns hostile, and she also needs to witness and bear agony, it can ruin her confidence and make her reluctant enough to leave the job. Whenever such situations take place, request her to retire to her room or to get engaged with some other work. Maintain a respectful distance with your helper while always making her feel at home.
7. Give her some personal space
Your domestic helper stays longer hours at home than any other member. They take care of a lot of things that ensure free time for the family members. Do you, in turn, facilitate some personal space and time for her? Do you allow her to have some free time with phone calls, wandering around, watching TV or even playing games with the kids? If not, your helper must be terribly unhappy and is really gasping for some fresh breath. For resident domestic helpers, it is always advisable to allow her a separate place to sleep and keep her belongings in a nice order.
A final note
From all that is mentioned above, having a respectful gesture to domestic helper is what seems to be most important. When you treat her as a professional of her capacity and accordingly stick to the principles as mentioned above, your helper is least likely to have an unruly and reluctant attitude.
Author bio
Edouard Muller is a French entrepreneur working in the Hive Sai Kung. He is the founder of HelperPlace – a leading platform to help expats to find the right domestic helper in Hong King.