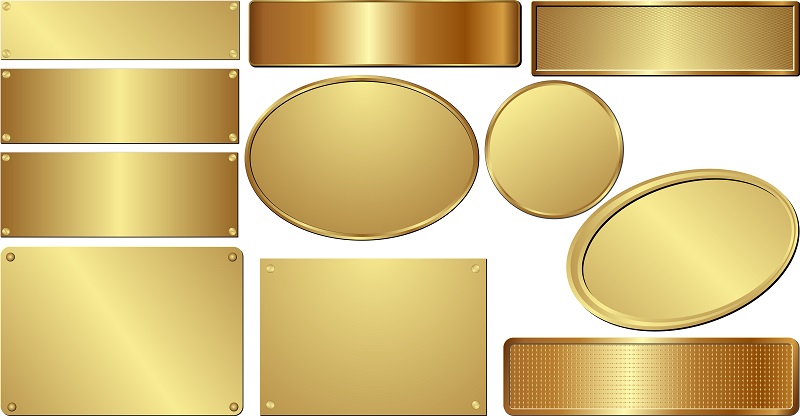 When embarking on the creation of new custom plaques, there are many decisions you need to make. Some are very high-level and tactical, such as the entire message you want to convey, and the image you want to highlight. Some others are much more empirical, including your financial range, plaque dimension, and order quantities. Designers can create a variety of plaques based on the dimension and material used. One of the early decisions you need to make in the plaque design process is what "type" of plaque you want to create. Depending on this, the cost can vary, and you can get the desired plaques for the occasion that you want.
Materials Used For Custom Plaques:
In general, high quality, durable materials are used for plaques. Outlined below are some of the most common types of materials used to create plaques:
Hardwoods: A large variety of hardwoods are used to make plaques and support for awards and trophies. These hardwoods are usually collected, cut, and finished at the local places. Hardwoods can be of Oak trees, Walnut, Cherry, Maple trees, and these woods are coated with stain and satin finishes for durability. Hardwoods are cut into different size and shape depending on the requirement of custom plaques.
Pressed Wood Material: Usually, low cost plaques are created from pressed wood materials. Plaques made of these materials present a similar look to solid wood products, but they come in much lower price.
Aluminum: Aluminum is a non-ferrous material. Aluminum is mostly used because of its light weight and corrosion resistance nature. Aluminum is rust and corrosion resistant and it gives a rich and beautiful look by making variations to its silver color using variety of colored backgrounds.
Stainless steel: It is mostly used due to its versatility, durability, as well as corrosion resistance qualities. Stainless steel is available in different dimensions and styles, which help for further customization of plaques.
Bronze: Bronze offers flourishing, conventional look and is an apt material for any kind of custom plaques. This material is primarily made of copper and tin mixture. It is mostly used because of its density and corrosion resistance power.
Factors to keep in mind while ordering for Custom Plaques in bulk:
Ordering plaques in bulk requires correct planning and meticulous attention to all the fine little things. You can decide the style, material, dimensions of the plaque prior to order placement. There are many plaque manufacturers operating in the market. All custom plaques are especially finished to give a rich and beautiful look. Following are some of the factors you need to take care before ordering plaques in large quantity.
Plan Ahead: If you are ordering the plaques in large quantity, you need to see that the orders are delivered to you in time. Bulk orders usually take more time to deliver because more time is consumed in casting and finishing process.
Storage Consideration: Storage can be an issue especially if the plaques are large in dimension. So it is better to consider a secured storage area for plaques when you start planning the plaque design.
Order for a Sample Plaque: If you plan ahead, it's better to order one or two sample custom plaques before going on with the bulk order. Sample plaques helps to review the plaque and you can make any suitable changes in the dimension or design factors, which avoids faults in bulk order.
You must also remember that it is always better to manufacture plaques from the high quality materials. High quality materials are usually corrosion resistance and provide durability. However the material we choose depends on our budget because higher the quality, costlier it is. If you want to know more about then get an advice from our experts about custom plaques detail information.