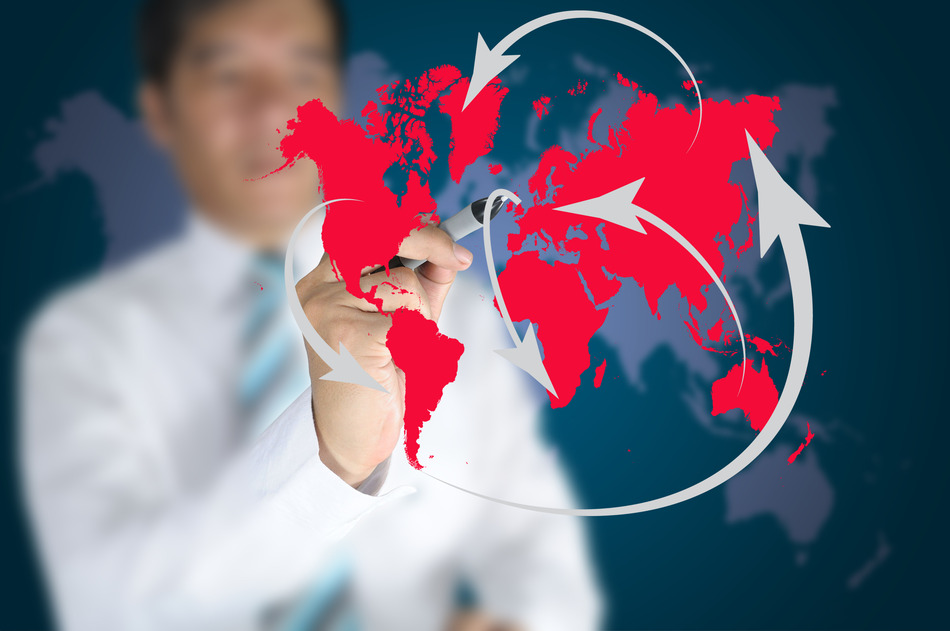 We all know the world is going through a huge remodeling due to globalization, economic crisis on some countries, and boost of consumption in others… The rules of business are changing and companies, now more than ever, need to compete in a global market if they want to secure their position.
The economic crisis is having a very unequal impact in each country. Whilst the Western countries' economies are falling down, the developing countries keep growing, giving birth to huge consumer markets that multiply constantly the business opportunities inside them. Many big companies have moved their production activities to low cost countries causing an economic boom in countries such as China or India. In the meantime, Europe and North America look at how they keep losing the economic hegemony over the world.
"Many developing countries have experienced a huge economic boom, creating new and huge consumer markets that multiply constantly business opportunities. Internationalization is the only way to take advantage of these new markets"
In this historical context where the world is going through such a huge transformation, businesses need to do so as well. Internationalizing our business isn't an option anymore, it's a matter of survival. That's why many business men have chosen to study an International Business Master of Science, no matter if they work in huge companies, small ones or they are planning to undertake their own business. Nowadays we need specific knowledge and skills in order to operate in a global market where the borders keep on blurring. The world is changing, as well as the way people do business. Are you ready?
How can I Internationalize My Company?
It is time, therefore, to step forward and open our business to the outside market through an internationalization strategy. As a matter of fact, most big and small companies are doing it in order to maximize their future expectations in business terms. Some good tips in order to achieve this internationalization of your company successfully are as follows:
Being aware of the new global market is a first step, but it's totally useless if you don't take concrete actions aimed to concrete foreign markets. You will only notice the results of your internationalization strategy when you start to do so.
If you want to take advantage of the new international opportunities be aware they won't come up as a miracle, you will need to do an important investment first. Using a good amount of money, people, time and other resources will be absolutely necessary in order to send your company beyond the barriers of your country.
Given the operational complexity of an internationalization process, concerning logistics, legal aspects, languages… one of the biggest investments you will have to do will be addressed to hiring talented people with new skills into your company.
The competitiveness in foreign markets requires a competitiveness in local markets. However, this can't be an excuse for anyone. Uncompetitive companies in domestic markets should develop two projects simultaneously: improving their competitiveness on the local market at the same time as they plan and implement their internationalization
On the early stages of our internationalization process it's always a good idea to rely on specialized partners, such as custom brokers, consultants or international banks.
Internationalization doesn't just mean exporting. We must also consider other options such as entering new markets through offices or subsidiaries, business expansion through franchising, joint ventures with other foreign companies… and of course the great opportunities offered by the e-commerce.
Study thoroughly potential business locations and the best ways to access them. Errors on these matters can lead you to huge costs.
So stop complaining about how has the economic crisis affected your company and do something about it.  It's time to start taking advantage of all the opportunities that international markets offer.