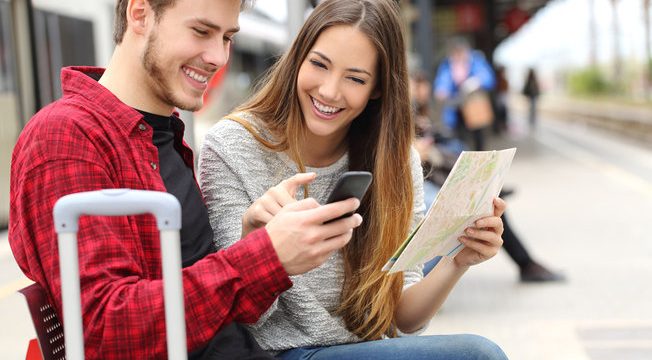 Traveling is a great experience and by way of travel, you learn a lot of things. When you travel you entail certain kind of inherent risk of accidents and of getting lost if you don't the roads. Not to mention the risk of being robbed en route. This piece takes into account only road trips and we will list down few apps that can serve you as your journey companion.
Roadtrippers:
Roadtrippers is an app to which you tell your travel plans by filling in the starting point of your journey and the end point of your destination with the date(s) of your departure. The app will plot a road map for you. It also factors in offbeat attractions while you are journeying such as any landmarks, restaurants, amusement parks, museums and so on so forth.
Maps.Me:
Another mobile app designed to serve as your travel partner. With Maps.Me you can browse the map of the world and focus on a city or places of interest by zooming in. Subsequently, you can download it for your offline use. Simply click the download button and the map will be downloaded on your smart device.
You can from thereon enter point A and point B on the map. It will reveal you directions without any Internet connectivity. The best part about Maps.Me is its detailed maps even of those areas which are generally inaccessible.
iExit:
In need of the services available on an upcoming highway route? Well, look no further because iExit is here. For the app to function, naturally you will have to have location services turned on and iExit will tell you of the next exit on your highway journey.
Moreover, it will also detail you a list of restaurants, hotels, rest stops and gas stations etc. So if there is any of those at that exit, you will see it on your app. Mark your favorite place and as soon as it is on your radar you will be alerted. Thus, no more regrets for exiting early on the highway by mistake and missing out on that fine food joint.
Google Maps:
Google Maps is your in-car GPS via your smartphone. Your ride-hailing services such as Uber are largely dependent on Google Maps to navigate routes. So all in all, it is of great help while traversing territories. Occasionally, it may get you off track by asking you to climb the bridge when there is none or go straight when there is clearly a river.
However, the best part about the app far supersedes its minor shortcomings. Google Maps offers you step-by-step directions and can save you a lot of time by filling you in on traffic situation up ahead, due to the accident(s) or construction work under progress. Additionally, it also offers you quickest possible routes so that you can beat the rush hour or can avoid congested longer routes.
Gogobot (now Trip.com):
An app for people who love to stay in different hotels, enjoy yummy meals and can have some place where they can have fun. Gogobot user community leaves feedback in the form of ratings and comments where they have been. Thereby, enabling you to save places to a list in the app.
People also upload photos so you can have an idea as to what the place looks like. Interests could range from dining out, outdoor activities, adventure trips, family get together and what not! This allows you to save time and you know beforehand what or where you headed.
GasBuddy:
It's only natural that you have accounted for fuel in your RV but that can prove to be not enough for any number of reasons, so what to do? Well, you'd be glad to know that there's an app called GasBuddy. GasBuddy lets you find a nearby gas station sorted by price.
Price is crucial because when you are in travel, you have to be careful not to spend extra as you never know when an emergency may arise. Of course, when you step out you have limited cash. So if the app sees you spending a bit extra, it will lead you to another gas station where you could save a few bucks (the next one might be a little down the road). Available across all platforms.
Field Trip (by Google):
As the name implies, your traveling is a field trip and Google delivers just that! The app looks for areas of interest when you are in a certain vicinity. So when you are driving and are connected via Bluetooth headset you will only hear alert notifications.
Field Trip app pulls recommendations from online travel and lifestyle magazines ranging from the likes of Thrillist, Zagat, and Sunset in addition to Songpick and Flavorpill for choosing from local tunes.
Conclusion:
Above are some apps that can you team up with for traveling next time.
Author Bio:
Bramwell Osula is a digital nomad by profession. He enjoys trying out different cuisines. In his leisure time, he writes to educate his audience in the field of travelling and associated adventures. He can be contacted to buy essay by following him on social media channels.