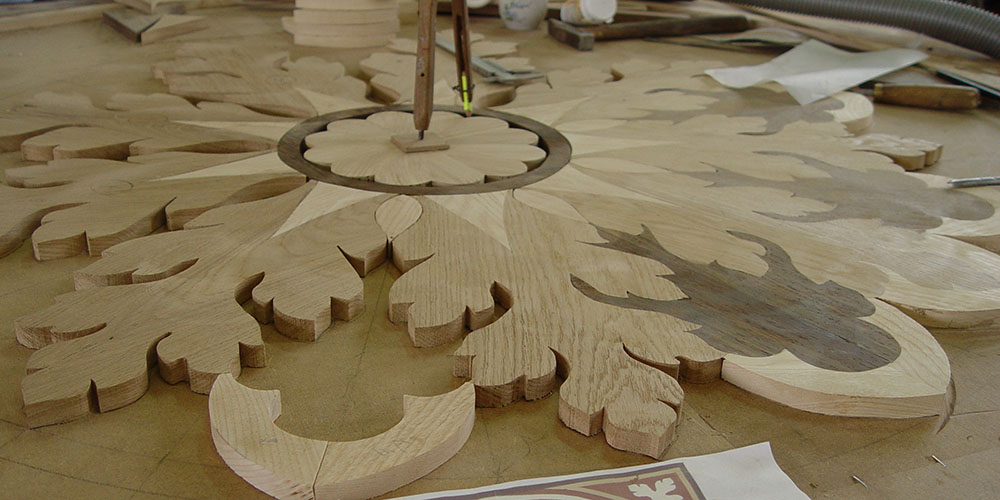 Inlay wooden flooring is often classed as the most luxurious and beautiful flooring design, which comes as no surprise. Inlay wooden flooring takes a long time to create, and it often requires the most experienced craftsmen to spend weeks carving wood by hand.
Inlay flooring is the best way to create an extraordinary, breathtaking effect in your home. If you want inlay wood flooring in your home but you're not sure where to start, don't worry. Here are some of the most stunning and unique inlay wood flooring designs.


Wood on wood

One of the most popular options for inlay flooring is wood on wood. For instance, you may have antique oak wood flooring that is inlaid with a pattern that is made from varnished oak to create a 3D wooden pattern. This will make any room seem warm and inviting, and it is less modern than other inlay options.
Steel on wood

Wooden flooring with steel inlays has grown in popularity in the last few years. Most options feature a simple, delicate leaf and flower design that is perfect for a bedroom or living room especially if the room features grey furniture. This option is very modern, so it is ideal for new homes or flats.
If you want to buy engineered wood flooring for your home, check out websites such as http://www.ukflooringdirect.co.uk/engineered-wood-flooring for affordable flooring options.
Brass and bronze on wood

Brass and bronze inlays are one of the most dramatic and unique inlay options. The colours are warm and luxurious, and they can be designed to look modern or vintage. Most designs feature a varnished oak wood flooring with golden brass inlays, and the patterns are normally either medieval or feminine and flowery.
If you want to buy wooden inlay flooring, make sure to measure the room first to find out how much flooring you need. According to Which, a professional fitter can help you to make sure that you don't waste money when you are buying flooring.
Stone on wood

Stone on wood is a unique, but expensive, flooring option. You can invest in wood parquet flooring with natural stone inlays, but remember that the flooring will be colder than most other options. Walnut tends to work well with stone, as it is a warm colour so it contrasts well with the colder colour of the stone.