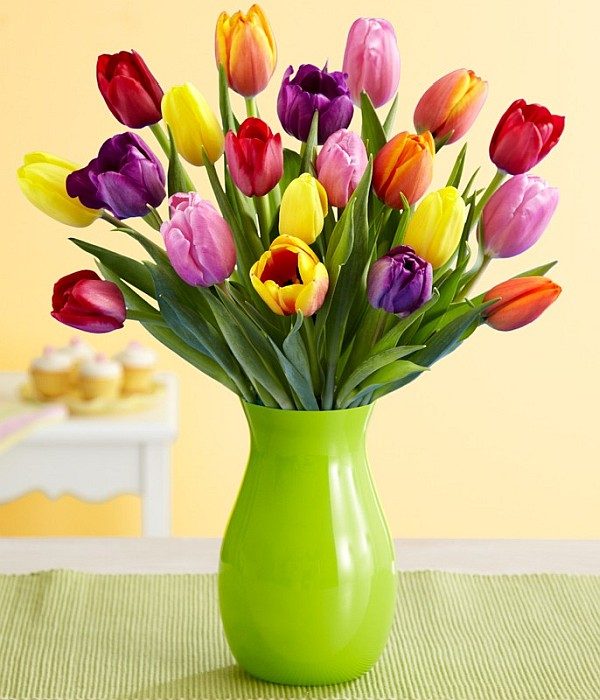 The Easter holiday is a holy time to celebrate the resurrection of Jesus Christ. While many people associate the season with warm weather, decorative eggs, brunch with family and friends, and adorable bunnies, it is a very significant occasion on the Christian calendar.
For those who celebrate, Easter includes religious services, prayers, feasts and reunions with loved ones. While religion is the most prominent reason for the holiday, there are common flowers and festivities that have become connected to Easter.  In fact, there are certain flowers that are commonly incorporated into church services.
To help you better understand the meaning behind Easter flowers, take a look at the list below. Not only are these flowers often found in a place of worship during the Easter holiday, but many people gift them to their friends and relatives in celebration of spring time and Easter.
Lilies
White lilies are a very popular symbol of Easter. They are often displayed in religious services because of their representation of love and hope. Originally sprouting from a bulb, the single stemmed flower exemplifies the resurrection of Jesus three days after his crucifixion. According to the Bible, white lilies were grown where drops of blood fell from the body of Jesus. There are several biblical connections between Easter and white lilies making them the perfect gift for your Easter host. For a beautiful bouquet of white lilies, you may want to consider Silver Bells from Flora2000. 
Daisies
Similar to the religious depictions of lilies, the daisy symbolizes purity and kindness.  This simple and sweet-smelling flower is lovely and suitable for Easter. If you're looking for something to give as a gift or to display in your own home this Easter, then the beautiful Sunshine bouquet from Flora2000 is perfect. This gorgeous arrangement of gerbera daisies, in all shades of sunshine, is perfect for celebrating both Easter and the first month of spring!
Tulips
While tulips may not have a religious connection, they are one of the first flowers in bloom each spring! Available in a wide variety of colors, the tulip is considered to be a symbol of passion, imagination and love. Each color has its own significance. While purple tulips symbolize royalty and nobility, white tulips represent forgiveness. The Coleurs De La Vie bouquet from Flora2000 is a combination of fifteen radiant tulips of various hues displayed in a complimentary white vase; a magnificent display for the Easter holiday!
Irises
The stunning iris signifies wisdom, faith and valor. This flower earned its name from the Greek goddess of the rainbow. She was known for fulfilling the responsibility of guiding women's souls to Elysian Fields when they died and relaying messages from the eye of Heaven to the earth. In addition, the iris is used in French and English royalty as a symbol of God's blessing on the throne.  This flower is symbolic of many respectable principles! The Ocean View arrangement, a stunning combination of blue and white iris, is available at Flora2000.
With Easter quickly approaching, there's still time to order your Easter flowers! Flora2000 offers an efficient flower delivery service and shipment of high quality flower arrangements to more than 190 countries, so no matter where your loved ones may be, they can always feel the love when receiving a beautiful bouquet of flowers!