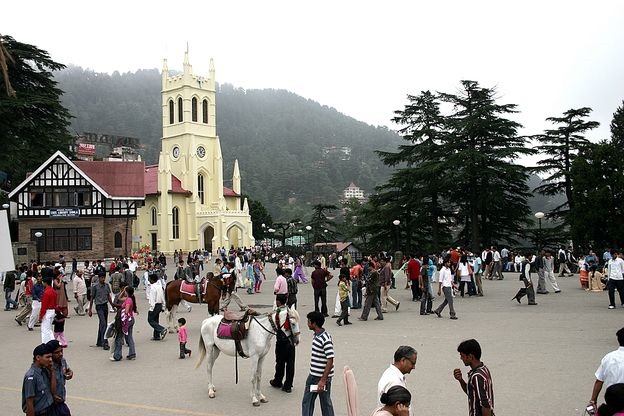 Popularly known as the Queen of Hills, Shimla is one of the famous hill stations in the northern part of the country. Surrounded by the several captivating attractions, the hill station appears as the most sought after place as a holiday destination in India. Even the region neighbouring Shimla carries its own enchantment and in case you want to explore more just than the Mall, do check out these other fascinating destinations.
The best about touring Shimla is its good connectivity with major cities in the northern region like New Delhi. In fact, you can easily explore the hill station on a given weekend and take cabs and buses to return! The best part is that the region also consists of several other fascinating places in the neighbouring region to explore, here are some of those attractive destinations from Shimla.
Auli – Summer is the best time to cover this amazing hill station. With very little crowd to interfere in your holiday, this quiet hill station is covered in a light green hue of fresh leaves of the deodar and pine forests. Auli was formerly known as 'Auli Bugyal' which in local language means green fields. Being so close to nature, Auli has abundance of natural beauty and rugged landscape which promotes adventure activities like skiing, hiking and camping, mountain biking and more. The summer season is also a great time for photography enthusiasts to enjoy and capture the beauty of nature. Auli is just about 400 kms from Delhi and you can enjoy a refreshing holiday during summers. In short, Auli is for those people who like to explore the offbeat on any given opportunity. You can even take an Auli to Delhi cab to return to your base station.
Dharamsala – Another enchanting location, a mere 6 hour drive from Shimla, is the town of Dharamsala. The town is extremely famous for its Buddhist influence and you'd find not only a good number of monasteries but marketplaces and even schools administered by the Buddhist authorities. For the people who consider cricket as their second religion, Dharamsala is home to the famous cricket ground conducting IPL and international T20 and ODI matches. In case you do not know, Dharamsala is considered to be the home to his holiness, the Dalai Lama. For shopaholics the markets of Dharamsala offers some of the best local handicrafts, clothes, bags and shoes, majorly manufactured by the Buddhist monks.
Mashobra – A mesmerizing hill station, Mashobra falls within the Shimla district and is famous for its picturesque locales. If you're one of those, who only visits hill stations to get away from the chaotic life of the city, Mashobra is the place to be in. Located in the famous Indo-Tibet road, the hill station was established by Lord Dalhousie in 1850. With a pleasant climate throughout the year and abundance of scenic locations, you're guaranteed to find your mental peace here.
Manali – A 6 hour drive from Shimla, this beautiful hill station is a great place to unwind and try adventure sports like paragliding and trekking. Dotted with some cozy resorts tucked in the remote corners of the green valley, Manali is perfect way to get away from the noise of the city. Some of the most visited places in the town includes Hadimba Temple, Beas river, Solang Valley and Rohtang Pass.
For the above mentioned hill stations, you can keep Delhi as your tourist centre. In case you're wondering how to reach Delhi, the national capital is well connected by all means of transport and it won't be hard finding a decent bus, train or a flight to reach your destination.