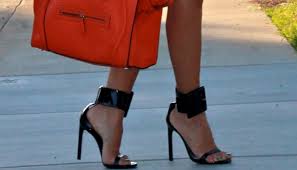 Diamonds may be woman's best friend, but shoes are also her weakness. Luxury shoe companies create a plethora of designs each year to feed the desire of their awaiting clientele. It's not surprising to find a woman who has 20 pairs of shoes or a wife who is shopping for new foot wears on regular basis. While it's fairly tough to do a closet raid to check out their favorite footwear brands. But we can look at 7 most popular women luxury shoe brands in our world. Which are given as follow:
JustFab
Justfab is one popular shoe brand which is known by all women. Nevertheless, this brand brings you styles that are just fabulous. Their shoes have unbelievable quality and unmatched value. This company grants fashion lovers access shoes which all celebrities wear.
Jimmy Choo
Jimmy Choo is one of the most popular shoe brands in the world. Stars like Hillary Swank, Halle Berry and Cate Blanchett have worn these shoes in Academy Awards. This popular brand is launched in 1980s in London. Jimmy Choo shoes always features excellent artistry, which created a loyal following for this brand. Retail development has also been an integral part of brand's strategy. The first Jimmy Choo fashion store was opened back in 1996 in London, UK. Few years later, company expanded to the US, by opening two new stores in New York City and Beverly Hills.
Dolce & Gabbana
This brand is a well-known as Italian luxury fashion house that was founded by Domencio Dolce and Stefano Gabbana in 1982. In this modern world, these two Italian designers with no doubt having most impressive personalities has given all women unique and stylish designer shoes. Which are both comfortable and good looking.
Samantha Shoes
Samantha Joseph wants every woman to have at least one pair of excellent shoes. That's why Samantha Joseph founded Samantha Shoes brand. This brand is popular among many celebrities, including Debra Messing, Rihanna, Sophia Bush, Tyra banks and many others.
Miu Miu
If you see a woman strolling around in a pair of pink suede metallic ankle boots, then they are no doubt Miu Miu Shoes. This brand has its store just three stores down from Gucci in Beverly Hills. This brand was established in 1993.
Alexander McQueen
Even though Alexander McQueen shoes are fairly preposterous, this brand combines various desgins and styles. McQueen took an apprenticeship with a tailor before working for a costume company. Even though McQueen passed away in 2010, this company still designs shoes based on imprint remains.
Christian Louboutin
This brand is iconic for having red soles and high heels. In fact, there red soles shoes always remain in demand and now an entire division of their company is dedicated for producing them. The most expensive shoes in Christian Louboutin's collection is Sexy Strass. Christian Louboutin spent early years of his career in designing shoes for some biggest names that include Chanel and Yves Saint Laurent. In 1992 he opened up his own fashion store. And his journey began.