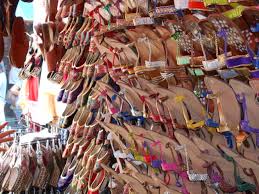 Delhi, the capital city of India has a plenty of surprises to offer. Great historical places, heritage sites, shopping malls, places to hangouts and many more. Likewise, shopping in Delhi is always a great task to perform. And if you want a real desi taste of shopping then you need to visit some very popular and bustling flea markets of Delhi. Like Goa, Delhi is also known for its flea markets. Great variety, cost effective products and desi taste, flea markets of Delhi have always been a popular choice among teenagers and housewives both old and young. Delhites love their flea markets more than lavish malls.
Here is the list of 5 flea markets where you can find a variety of products at a reasonable price.
Janpath: Stretched in a distance of around 1.5 km, Janpath is a historical market. It is the main market of Delhi and very famous among the dwellers and tourists as well. Situated at Connaught Place, Janpath houses a different kind of products for every need. Well, brush your bargaining skills before reaching the place as the shopkeepers quote a double price. Though, at last you will get a product in right place but initially you have to bargain.
Karol Bagh: Roughly 5 km from New Delhi railway station, Karol Bagh is an old complex. You can have a good time here. From air-conditioned showrooms to small shops, branded to locals, Karol Bagh offers some great collections of clothes, footwear and accessories. This place is also famous for wedding shopping. As Karl Bagh is a residential cum commercial complex, some luxury hotels in Delhi are also situated here.
Sarojini Market: The very popular Sarojini market located in Sarojini Nagar, South Delhi is one of the happening places. Popular especially among college goers and ladies, it is known for its funky clothes at reasonable price. It offers a huge variety of clothes. The good news is that here you have to bargain less. With some yummy street foods, Sarojini Market is always in the choice list of a shopaholic.
Lajpat Nagar: Lajpat is another very popular marketplace. A huge number of tourist throng to Lajpat to buy some typical goods of Delhi. A great place for some desi clothes for any occasion, the central market of Lajpat Nagar remain crowded throughout the year. Commonly refer as the paradise for shopaholics, it is among the must visit market in Delhi.
Kamla Nagar: A recent name among the college goers and teenagers, Kamla Nagar market offers some wonderful collections of Kurta and Kurtis. The vibrant colourful and good quality clothes and chappals are always available here. It is located in North Campus of Delhi University.
Well, all these marketplaces are easily accessible from any parts of the city. As Delhi provides a good road and metro service. Cabs and taxi services have recently undergone a huge change in this city, if you want to travel from other nearby North Indian cities like Delhi to Chandigarh taxi service, you can browse for a detail information.