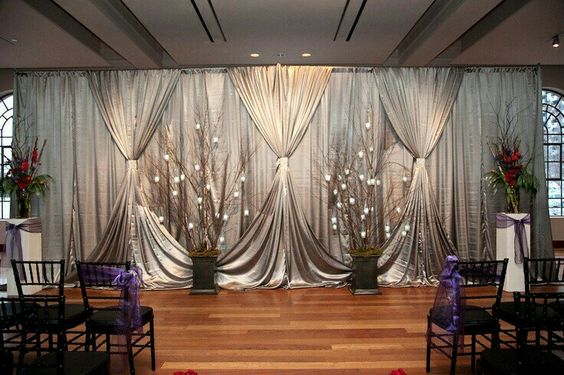 No matter what type of event you're hosting, you'll likely have a need for partitions to obscure logistical functions or channel foot traffic from one place to another. The tried-and-true convention known as pipe and drape has been used by event organizers for decades to achieve those ends. Though the times have changed in many ways, pipe and drape is still a simple, effective way to maintain crowd control and direct traffic flow at events.
Pipe and drape is really nothing more than a series of portable partitions created by a steel or aluminum pipe framework and fabric drapes. But because it is light and customizable, it can be used to fill a variety of purposes. Read on to learn more about a few of the common uses for a pipe and drape kit.
Create Backdrops
Many events have a focal point. For example, if your banquet has a dais, or you're holding a press conference for an important announcement, a pipe and drape backdrop can help visually emphasize your subject by providing a plain background. It serves as a visual anchor for the important events that are unfolding, and it is simple to erect and take down when you're done.
Divide Booth Spaces
Pipe and drape can come in handy at conventions, conferences, and trade shows as well. It can be used a convenient way of creating booth areas for vendors or participants. Pipe and drape is light, versatile, and modular, so it can be used to partition a large space into many booths. Along with table drapes, pipe and drape can add an air of formality to your events.
Cover Ongoing Construction
In a church, retail, or office setting, sometimes it's necessary to continue to use a facility while repairs or upgrades on going on. In those cases, you don't want your construction visible to visitors for both safety and aesthetic reasons. Pipe and drape can provide the perfect solution by offering a low-impact way of masking construction while allowing for the continued use of the space.
Create Room Dividers
Sometimes churches and schools may have one large space that must be used for several purposes. In such cases, pipe and drape can be used to divide the larger space into cells which can then be used like individual classrooms or Sunday school rooms. Pipe and drape provides a temporary solution to space division needs until other arrangements can be made.
Enhance Weddings
Weddings are another common venue for pipe and drape, as there is often a need to create an elegant backdrop in non-traditional wedding venues such as outdoor weddings. Pipe and drape can also be used to highlight focal points at weddings and provide a clean backdrop for quality photography. For example, pipe and drape may be erected behind the wedding cake where photos of the bride and groom cutting the cake will be captured.
No matter what type of event your having, a pipe and drape kit could come in handy for providing a backdrop for photography, dividing a larger space, or helping to emphasize areas of interest. It's a cheap, portable, and low-impact way to meet your visual needs.