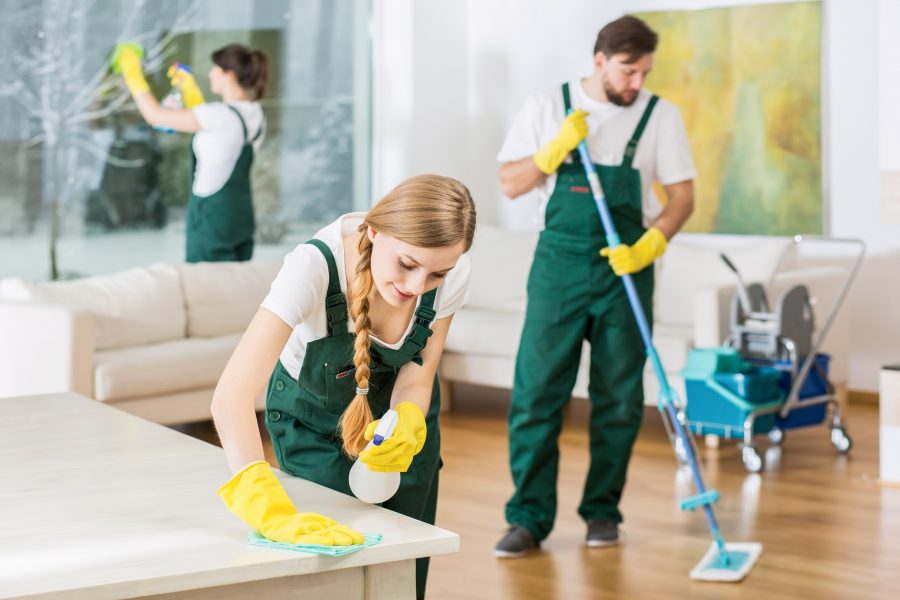 Today, a majority of workers spend more than 45 hours each week in their workplace. So, keeping the office spaces clean, and ensuring it's safe and healthy place to be is of the utmost importance to the business managers. While many office managers simply put a burden on their co-workers to maintain cleanliness in the office, hiring professional cleaning companies can make a big difference and save both business money and time.
Sometimes, many business owners take on the responsibility of cleaning the workspaces themselves. Well, not only this can be stressful if you own a large organization but it can also distract you from the actual work you would prefer doing. If you oversee or own a commercial office building, it's important for you to hire a professional cleaning firm to maintain an efficient and tidy work environment.
Competent commercial cleaning services train their workers to clean any type of building in an efficient manner. So, don't put a burden of maintenance and cleaning on your employees or on yourself when there are numerous commercial businesses out there offering great cleaning services.
The great benefits of hiring commercial cleaning companies are extensive. If you are looking to improve your company's safety, efficiency and overall appearance, consider the below-given benefits of hiring a commercial cleaning company.
1. PROFESSIONALISM
A professional commercial cleaning company is highly skilled in properly cleaning the workspaces. The highly trained commercial cleaning experts have special skills and expertise that includes office dusting, cleaning and sanitizing. They know what you actually need to ensure a healthy and clean working environment. The commercial cleaning firms are in business to help your company sparkle and shine.
2. BETTER PRODUCTIVITY
Everyone knows how important a clean office is. It's easier to stay well organized when your surroundings are clean. Your business productivity tends to boost when there is a tidy, uncluttered and professionally cleaned office. If you have clients visiting your business regularly, a tidy space allows them to focus on the business at hand, and they won't be distracted by the lack of cleanliness. A clean office space also creates a welcoming environment for your employees.
3. HIGH-QUALITY SERVICE
A good commercial cleaning company offers the clients high-quality service because it's their area of expertise. They own appropriate knowledge and cleaning tools to thoroughly clean a commercial building in the best possible manner. The cleaning experts possess all the methods and equipment in order to keep the commercial space shining.
4. COST-EFFECTIVE SERVICE
Another great benefit you can enjoy by hiring a commercial cleaning company is that it is cost-effective. The precious time you would spend cleaning the office yourself can be better spent spending time with your loved ones or working on other business projects. In addition, the cleaning experts can complete the work quickly and in an efficient manner.
WRAPPING UP
In closing, these were some of the great benefits you can enjoy by hiring a professional commercial cleaning service.