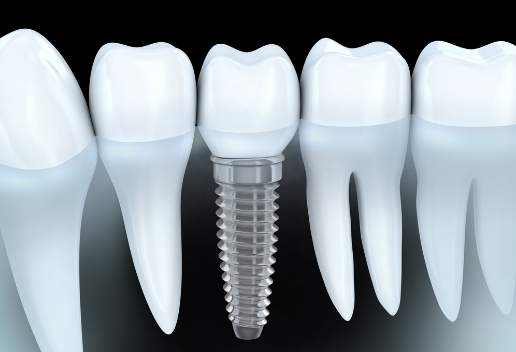 Dental implants may seem like a nightmare to some people, but receiving one not only protect the teeth around it but will help enhance your smile. Implants these days are becoming a popular method to replace missing teeth. This procedure is not only used for individual tooth replacement, but it can also be used when replacing multiple teeth.
WHAT IS A DENTAL IMPLANT?
An implant is a root of an artificial tooth that is implanted in the jawbone that supports one or other teeth around it. A dental implant is the best option for many patients looking to improve their smile and help their mouth and teeth stay healthy.
SOME ADVANTAGES OF DENTAL IMPLANTS
Extremely natural looking
Long-term durability
Improved speech and smile
Reduce bone loss
Improved ability to eat and chew
Implants can correct a number of several dental issues. With a few exceptions out there, implants are a good option for many people. They tend to look more natural, last longer and are more comfortable for patients. Below are the four clear signs you may need dental implants.
1. DIFFICULTIES WHEN CHEWING AND EATING
Missing teeth can put stress on the remaining teeth when you eat or chew food. A misaligned bite and tooth sensitivity caused by tooth loss lead to irritation when you try to enjoy your meals. It may also lead to uneven face shape or smile. Dental implants allow you to reduce sensitivity in the gums and teeth from a lost tooth and also alleviates pressure from other teeth.
2. INSECURITY ABOUT YOUR LOOK
Nothing is upsetting than hiding your precious smile. Whether you have lost your tooth due to medical reasons or because of an injury, it can be embarrassing and you might be too uncomfortable to even smile. A dental implant appears natural, and most people will never know you are wearing them at all.
3. JAWBONE LOSS
Tooth loss, advanced gum disease, and certain types of infections lead to jaw bone loss. Jaw Bone loss can adversely affect many aspects of your oral health, as well as your entire look. Dental implants promote osseointegration, that allows implant roots to stimulate the growth of jaw bone, this lowers the chance of bone loss over time.
4. MISSING TEETH
This is a big sign that you must consider dental implants. Even single or more teeth often lead to big issues. Gaps between teeth can alter your smile and also discourage you smiling openly depending on where they are. Stop worrying! There is always hope as dental implants are an excellent option to solve all your missing tooth issues.
To sum up, these were some clear signs you may need dental implants.If you have noticed any of these signs, don't wait any longer, talk to your dentist today about dental implants.