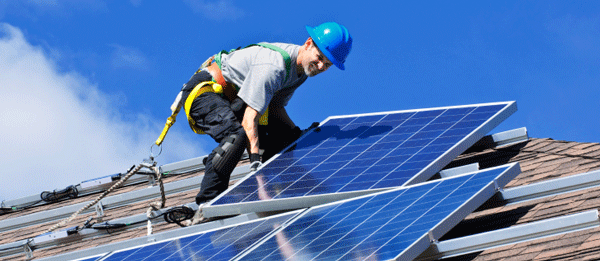 Solar power has seen a significant boost in the UK in recent years, driven by government incentives that have encouraged homeowners and business owners to install solar photovoltaic (PV) panels on their rooftops.
The Feed-In Tariff has seen huge success since its introduction in 2010, with over 730,000 installations. However, the industry received a shock on the 27th of August, when the government revealed that it is considering drastic reductions to the Tariff from January 2016.
With a possible overhaul on the horizon, now is the time to act if you want your business to go green and benefit from cost-effective renewable energy.
What's at Stake?
Solar panel installation is a big investment for any business and Precision Roofing can help install them for you. However the savings they can bring to your energy bills, along with the income generated by the Feed-In Tariff, mean that solar panels are currently an attractive investment option for businesses wanting to lock in long-term profitability.
Depending on the size of your solar PV system, you can receive payments of hundreds (even thousands) of pounds each year, guaranteed for 20 years, as an incentive to produce renewable energy.
The changes proposed to the Feed-In Tariff mean that from January 2016, payments could be slashed by as much as 86%, drastically reducing the return on investment provided by solar panels for businesses in the UK. Although the future of the Feed-In Tariff is still under consideration, the news has sparked panic in the industry, leading many to question the direction of renewable energy.
What Does this Mean?
However, it isn't all doom and gloom for businesses thinking of going green. The changes won't affect existing solar panel installations, meaning that domestic and commercial stakeholders can continue to enjoy the same rates in 2016 and beyond. What's more, as rates are fixed for 20 years, solar panel systems installed in 2015 will continue generating an income until 2035.
However, to take advantage of the Feed-In Tariff before changes come into effect, it's essential to install your solar panels before the end of the year. Act now, and you can generate long-term savings and a tax-free income for your business, regardless of what action the government decides to take over the coming months.
A commercial solar energy firm can assess the needs of your business, provide a quote, and install your solar PV system in as little as a week, subject to your Distribution Network Operator (DNO) application and any planning approval. So you can start reaping the benefits of renewable energy as soon as possible.
Although the future of solar energy may hang in the balance, for smart business owners who act before 2016, solar power can provide a guaranteed income and significant savings on heating and electricity. From small solar systems on office blocks to large-scale installations for farms and industrial businesses, solar panels can transform your rooftop into a sustainable source of income for years to come.
If you have any comments on this article please let us know.
This article is written by Kelly G Grassam with useful information from GMI Energy.