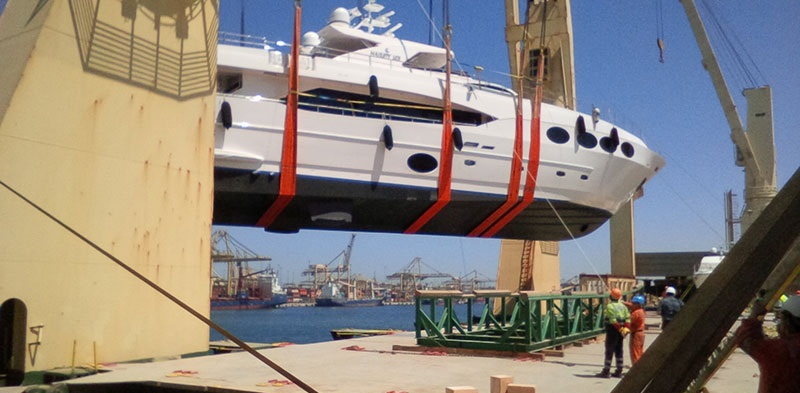 Who would not like to own a live yacht or a big fancy boat? By all means it is a very expensive purchase, but for those of you who already have a nice yacht, or motorboat and need it to be delivered we have a great solution for sure. The name of our trustworthy company is Cigisped, and we have a team of dedicated and highly-skilled professionals, who are ready to aid you with transportation of a yacht.
With the help of our company you can be totally sure that the whole transportation process will be very pleasant and easy for you. Cigisped company promises you that your yacht or boat with be harmlessly transported on our vessel in the shortest time that is possible.
Some of our clients do hesitate for quite some time about yacht, or motorboat transportation due to the reason that they because they are worrying about the possible damage, scratches or any kind of flaws. With our company there is no need to worry about such things, because we are totally customer-oriented. We want our clients to trust us completely with their floating transport, which is why we want our service to be on the highest level that we can provide.
We can offer you various types of yacht transportation to your choice. The first one is with submersible boat carriers and the second one is semi-submersible boat carriers. Remember that there is also a spray service included, that will keep your yacht or boat safe and sound for any possible harm at all.
We want every yacht to be on the reasonable distance from each other in order to not to scratch each one.
For more than 10 years we have been practicing and delivering yacht and boat using a very safe float on or float off way of transportation. For those of you who actually have no idea how every single one of this transportation methods work we want to explain precisely every process separately.
As soon as deck is ready, by which we mean that keel block cradle is installed, we are able to put a vessel in floating marina and afterwards your yacht will be placed on the deck. As soon as we can see that deck is not wet at all, then your motorboat is tied to a deck and can be safely shipped. Due to the reason that we have spray-covers your yacht or boat is going to be totally safe during the whole process of transportation.
In case you want to know who to apply for a boat or yacht transporting service you ought to visit our website. There you will find an application form that you need t fulfill completely, without skipping any detail at all. It may happen that you will find some questions unnecessary, but remember that for us it is very important to know basic information about your yacht, that you are going to transport.
As soon as you fulfilled you form you will have to wait for your manager, or any other representative to contact you soon enough. Remember to specify the location of your yacht and the place where you want it to be delivered. Do not forget that the future price of the whole boat transportation is going to be discussed in advance. We are going to provide you with certain insurance so this way there will be no need to worry about your precious yacht.
When the delivery day will finally come the member of our team will contact you once again and ask you to prepare your boat t being delivered. If you have no idea what it means then we want to tell you that the main preparation process includes covering every fragile and soft parts of your yacht. Because of the possible strong winds, and the speed is going to be high the covers of sail can be blown off; we are considering this possibility for sure and taking every possible precaution.
Sometimes it is wise to protect your boat or yacht with Vaseline or waxing from possible stains or any kind of damage. On order for you to be sure that with us you are going to receive the best service there is, you can read reviews on our web-site from plenty of potential customers, who require our services now and then. We are proud to say that we are offering not only yacht and boat transportation in Dubai but also all over the world.