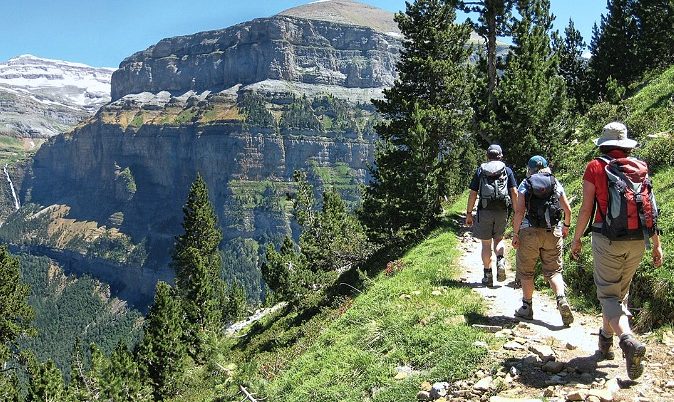 Considering the fact that you will very literally be carrying whatever you pack on the Camino de Santiago, you need to pack very wisely. What may seem like a necessity back home, might weigh you down on the road. And while you may think that a few extra pounds is nothing much, you would be surprised how much a pound can be a burden.
In order to save you a bit of trouble, here is our version of a packing list for the Camino. Depending on the time you will be spending on the road, and the Camino route you have chosen to take, you can adjust it as you see fit. However, refrain from overstuffing your bags. You can naturally discard what you don't need, and buy most of the things you do need, but don't let yourself be stranded on the road for four days without toothpaste!
Most importantly, have fun on the Camino, and stay safe!
The backpack
Naturally, you should think of the backpack first. It should not be either too large or too heavy. You might think that you should first pick out what you are taking with you, and then buy a pack, but that would be the wrong idea.
If you know how much you can pack, you will be much more economical. The pack should have adjustable straps, and be weatherproof. You don't need to go for a high-end brand. The surest way to pick out a right manufacturer is to consult Camino forums – those who have already broken a pack or two in always have the best recommendations.
The shoes
Next come the shoes. The shoes need to be prefect. You are looking for hiking shoes, waterproof and sturdy. This is where you should be investing, as a good shoe can make your trails a lot easier. Seeing as you will be spending almost all of your waking hours in them, make sure you both break them in, and that they do actually fit. Not sort of fit, or almost fit, they need to be just right, like the bed in that old fairytale about Goldilocks and the bears.
The clothes
What you choose the wear on the Camino is in a way the least important decision you need to make. In the sense that the clothes need to be durable, comfortable and moisture wicking, but they don't need to look amazing. Invest in socks. Lots of socks. The jacket is also quite important. As for the rest of the items, you can go for gym wear if you'd like, as it will surely allow you to move freely and will not cause rashes. Also, make sure to pack a hat or two.
The tech
If you have a good camera on your phone, you don't need an extra one. You do need a portable battery and a USB charger. Also, a flashlight and extra batteries.
The medicine bag
Naturally, you will take all your prescribed medications with you. You can also pack an extra set, just in case. You will also be needing painkillers and Band-Aids, something to treat insect bites and something to ease sunburn. To avoid using it, you should also pack sunscreen with a high SPF.
When it comes to the toiletries, pack in travel sizes. You can restock on the road if need be. Don't take too much, though, as this is where people tend to over-pack, thinking they need a lot more than they actually end up using.
The miscellaneous
I also advise packing: a pocket knife, a towel, toilet paper, scissors, a cup, pen and paper, a few safety pins, and a sewing kit. You might also want to consider ear plugs, and a good book, if you'd like. Having a map is also a good idea, or a good GPS app on your phone. Also make sure to check if your mobile provider charges extra when you are abroad and how much.
After you are done packing, make sure to test the weight out. Walk around for a few miles with the pack fully loaded. Only then will you see how it will feel like on the open road. This is also a great way to test your shoes and socks.
Now that you are packed, you can worry about one less thing, and enjoy your Camino to the fullest! Happy trails!