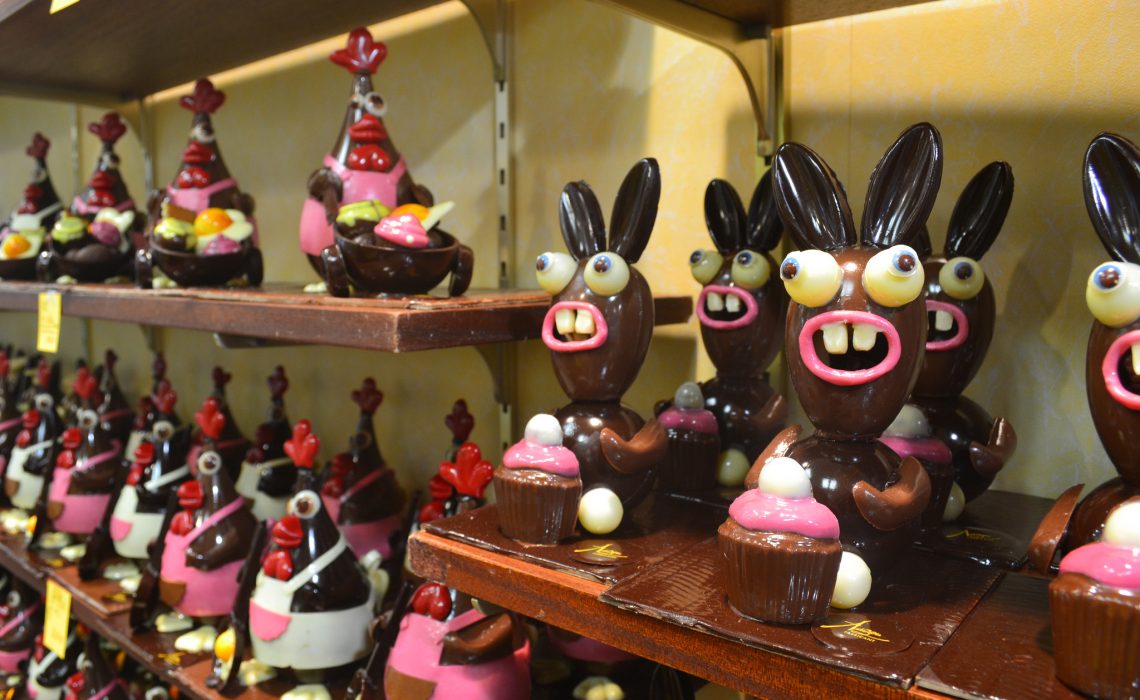 Wondering where to find best chocolate in Geneva? In chocolate shops, of course! Chocolates are an inevitable part of your holiday experience in Geneva. We selected 5 best stores you should definitely start with.
Du Rhône
The best place to start your expedition across Geneva is Du Rhône. It's the oldest chocolate store, founded in 1875. It is designed as a convenient chocolatiere with its own tea room – a truly unique place to taste Geneva's finest dark chocolate on the spot.
You won't have trouble finding it, since it's located in the heart of the city. Du Rhône specializes in pralines, truffles and chocolate battons made of the finest chocolate. Our recommendation: Du Rhône pralines with 63% of cocoa.
La Bonbonnière
Take a walk down to the buzzing Rue de Rive – and there you will find La Bonbonnière, a specialist among the chocolate stores in Geneva. You may have a little problem locating it because of its modest exterior (which may appear underwhelming).
However, once you enter this store, you will be splashed by the smell of the finest chocolate pralines and truffles. Their secret ingredient is 100% cocoa butter which causes big queues during lunch time. Also, their offer entails some of the most creative and imaginative crafted desserts you'll ever see.
Canonica
This is the only store that you get to enjoy twice – upon your arrival and your departure. Why? Because it's located at the Geneva Airport! While you're there and waiting for boarding, take your last moments to enjoy the most incredible tastes of Canonica chocolate – with strong, intense flavors and rich creamy texture.
It is among the best known chocolatiers in Geneva and as much as its looks like another chocolate store, you will be swept away with creative mixing of tastes including the most exotic combinations and flairs.
ARN Chocolaterie
While passing through Geneva's Old Town, take a moment and stop by ARN Chocolaterie. You will get to enjoy in over 40 different chocolate desserts, ranging from pralines, truffles and other specialties. Crafted with the hundred-year-old tradition, ARN chocolates specialized in cube-like cocoa dusted pieces of the smoothest dark chocolate called Pavés de Genève. It is the reason t features in some of the best journals highlighting Geneva travel tips.
If you're craving for a rich mouthful of exotic taste, you should try their truffles with champagne. Also, you can request some of their specialties, like special chocolate presents packed in luxurious boxes with unique ARN signature.
Stettler
This chocolate store is something you simply cannot overlook. With five boutiques and tea rooms spread across the city, Stettler built a really strong presence in Geneva's chocolaterie world.
Besides gorgeously tasteful chocolate, Stettler makes a unique experience by inviting you to know their secrets of chocolate making and eventually to try crafting some of your own chocolate desserts!
Make sure you stop by their branch at the Avenue Blanc and prepare to immerse in the magical world of chocolate.
When you arrive in Geneva, make sure you contact Geneva car rental agencies since the city is covered with cameras and radars. And you can use this list of best chocolate stores as a part of your Geneva travel experience. You simply cannot miss the opportunity to taste luxurious chocolateries and desserts!