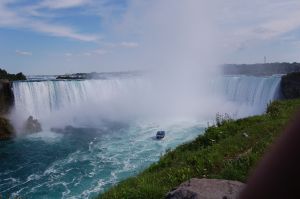 Niagara Falls, which straddles the border of the United States and Canada, is actually comprised of three separate waterfalls. This popular tourist destination is one of great natural beauty, but the falls also serve as an important source of hydroelectric power. If you are thinking of heading to Niagara Falls for your honeymoon or simply a vacation, here are some of the most frequently asked questions about this heavily visited tourist locale.
When Is the Best Time to Visit?
If you want the best weather conditions, the middle of May through the middle of September is the best time to visit. If fall foliage is your thing, the first two weeks of October are optimal. The falls are open 24 hours all year round and plenty of people come through during the winter (November to April), but many of the top attractions are closed during this time, such as Maid of the Mist, Jetboat and Cave of the Winds.
Do I Have to Pay a Fee?
Getting into the park does not cost anything and you are able to enjoy the views, hikes, picnic areas and all the park has to offer without paying a dime. But, attractions within the park, such as riding on the Maid of the Mist, do have admissions fees. If you plan on partaking in multiple attractions, the Niagara USA Discovery Pass may be a good option since it can save you up to 35 percent.
What Do I Need to Cross Into Canada?
If you plan on crossing into Canada, you will need a U.S passport, passport card or enhanced driver's license. If you are visiting the United States from another country, it is important to check on Canada's entry requirements for your respective country. If you need a visa, you can obtain one in your home country or in the Canadian consulate in Buffalo, New York; you will not be able to obtain a visa at the border crossing. Transit between countries is relatively quick (about ten minutes); though you can expect a longer wait on holidays such as Canada Day, Labor Day and Fourth of July. Pets are permitted in the parks, but if you plan on crossing the border with one, you may be required to show a current vaccination certificate.
Where Should I Stay?
Because of limited parking in the area, tourist officials recommend staying as close to the Falls as possible; being able to walk around and use the shuttle services will be the easiest way of getting around. The website of the tourism board provides a list of accommodations; you can also find additional Niagara Falls hotels on a variety of sites that cater specifically to the area.
How Can I Get Married in Niagara Falls?
Niagara Falls is one of the most popular honeymoon destinations and if you want to actually get married here, you must obtain your marriage license at the Niagara Falls City Hall at 4310 Queen Street. The office is open Monday through Friday from 8:30 to 4:00. A license costs 75 dollars and you must provide your birth certificate and two forms of identification. If either party has been previously married, you must provide proof of divorce. If you are getting married in Canada, the ceremony can take place anytime after the license has been issued; if you are getting married in New York, you must wait 24 hours. The certificate is valid for three months.
About the Author: Kelli Cooper is a freelance writer who blogs about all things travel; if you are looking for quality accommodations at this tourist hot spot, she recommends the Hampton Inn Niagara Falls.