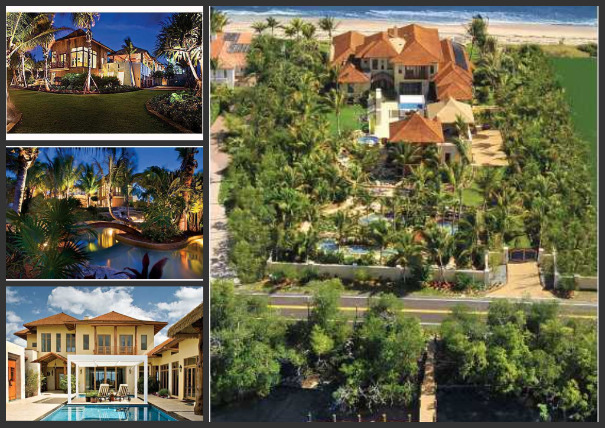 There are lots of luxury homes all around the world that look more magnificent than the White House, Woolworth Mansion, and other famous mansions. These luxurious homes are owned by the richest people in the world. If you want to know the best luxury homes around the world, then you've come to the right place. Check out this list of the best and most magnificent luxury homes from all over the globe.
Antilia, Mumbai
Antilia in Mumbai is the world's first billion dollar home and one of the best luxury homes in the world. It is owned by MukeshAmbani, the world's 5th richest man and head of Reliance Industries, a petrochemical giant with a net worth of $43 billion. Antilia was built because MukeshAmbani's wife, Nita Ambani wanted a home that looks like the Mandarin Oriental hotel in New York. Every story of this skyscraper home is built with a different specification. Antilia was built using a vast variation of materials which increased its overall cost. It is estimated that this 27 -story skyscraper home is worth between US$1 and 2 billion.
Updown Court, England
Another famous luxury home is the Uptown Court in England. This luxury home is about 25 miles from London and is worth 85 million British pounds (about $150 million). Inside Updown Court, there are 5 swimming pools, 103 rooms, and a study that has a mosaic floor with 24-carat-gold leafing. There is also a tennis court, bowling alley, squash court, helipad, heated marble driveway, and a 50-seat screening room. This luxurious home also features an underground garage with enough room for eight limousines.
Versailles, Florida
Versailles is a well-known luxury home located in Windermere, Florida. This 30-bedroom home features a roller skating rink, Olympic sized swimming pool, and bowling alley. It also has ten kitchens, 23 bathrooms, a 20-car garage, video arcade, and a baseball diamond. Time share magnate David Siegel ordered the construction of Versailles in 2004, but construction was halted due to money deficits. It is the largest family home in the United States and will cost about $100 million to complete. The construction was resumed in 2012 and it is estimated that the mansion will be finished within two years.
Fleur De Lys, Beverly Hills
Another famous luxury home that you may have heard about is the Fleur De Lys in Beverly Hills. This 41,000-square foot property was owned by Marie Antoinette and is currently owned by famous singer Mariah Carey. The asking price for Fleur De Lys is $125 million, making it one of the most expensive estates in the world. This beautiful palace is surrounded bymature trees, ornamental gardens, and rolling lawns. It also features a pool, a spa, staff quarters for ten people, lavish garden folly, and a championship tennis court.
Hearst Mansion, Beverly Hill –The Godfather Mansion
This One of the most expensive and luxurious Beverly hill property has been listed for sale at $165 million. This luxurious property has 29 bedrooms, three swimming pools, tennis courts, its own cinema and a nightclub. The property was formerly owned by William Randolph Hearst (American newspaper publisher)He bought this mansion in 1947 for about $120,000. The current owner of this estate listed the home on the market for 165 million US dollars.
Acqua Liana, Florida – The most Luxurious Eco Mansion
Well know real estate artist Frank McKinney has built this 15000sq foot  eco mansion. Inspired by trips to Bali, Fiji, Tahiti and Hawaii, with 15,000-square-foot, 7-bedroom, 11-bath mansion features floating sun terraces, a waterfall spa with a fire feature in the water and an arched aquarium wet bar. This $24 million US dollars (£15million) ecological mansionis the first home of its size to be certified 'green' by the rigorous environmental standards committees of the region."The interior is the most spectacular part.Guests will hear nothing of the doom and gloom of the credit crisis,' said by McKinney
There are many other luxury mansions all around the world that were not included in this list. Villa Leopolda in France, and The Manor, Los Angeles are other examples of luxury homes that are owned by the rich and famous peoples.
Join Our Page for more luxury updates: Luxury Life