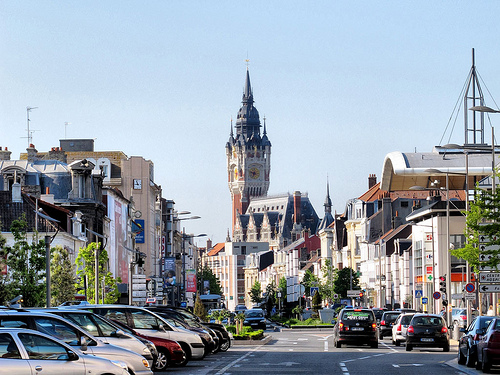 It comes as no surprise that France has been the most popular tourist destination in the world for the past twenty years. It could be said that in the battle for tourism supremacy the tables are turned very much in the favour of this European sightseeing superpower. What with its rich history, unique cultural heritage, fantastic gastronomy, chic fashion, sophisticated films and art culture and its breathtaking landscapes varying from exquisite mountain ranges through to picturesque Mediterranean fishing villages – France really does take some beating.
Boarding the Ferry
If you live in south east England one of the best ways of reaching France is by ferry from The Port of Dover. With a choice of ferry services and sailing times, arranging a trip to France from this Kent town couldn't be simpler. To get the maximum out of your visit, why not share it with some friends? Have twice the fun by organising mini bus hire to transport you and your pals to Dover, or even across the Channel into fabulous France.
Choosing Where to Visit
Having decided you are going to France, now the difficult stuff begins. With so many amazing things to see and do, it will be necessary to limit yourself to a certain area, to make the most of your visit. Ferries from Dover dock at Calais and Dunkirk, two places that are often overlooked in the mad rush to keep driving on into deeper France. Both Calais and Dunkirk have plenty to recommend them as interesting destinations and  here are a few tips and ideas for squeezing the most out of your trip.
Calais
Often dismissed as a place for day trips and cruises for cheap booze and cigarettes, Calais itself is actually a pretty town with lots of charm. Situated in the Nord Pas de Calais department of France, Calais looks across the channel in the direction of Dover's white cliffs, only twenty one miles away.
Any visit to Calais should incorporate a tour of the pretty central part of town. The famous iconic clock tower and the Rodin statue that sits out in front, are pleasant surprises. There are many places to eat, drink and enjoy the local tasty food of Calais. Little pavement cafés and bistros aplenty line the streets in an attractive display or if you want to head out of town for lunch why not try the Courgain Maritime and Fish Market?
Other notable attractions in Calais include the Modern Art Museum, The War Museum (has added authenticity of being located in a real bunker!) and La Channel Scene National, a cultural centre housed in an old slaughter house. Calais is famous for its lace making and there are several places to purchase this delicate work, unique to the area. For those making the trip with transport, nearby places within easy reach and worth a visit include St Omer, Oye Plage, Ardres, Wissant and Guines.
Dunkirk
The name Dunkirk has a historic resonance with many in the United Kingdom and as such, it is a popular destination for those interested in the war time part played by this French coastal town. Located at the northern tip of France, close to the Belgian border, Dunkirk offers an interesting visitor experience. The port of Dunkirk is a large and interesting place and tours can be taken around the harbour by boat. Memorial de Souvenir is a museum which tells the tale of Operation Dynamo, the evacuation of British troops that took place on Dunkirk's beaches in 1940. For remembering the First World War head further east to Leper in Belgium. This is where the In Flanders Fields Museum is located.
Food and drink in Dunkirk has an unmistakably Belgian flavour, due its close proximity to the border. Menus featuring moules, frites and cold beer are commonplace, as well as more traditional French fare. Dunkirk is famous for its Carnival so if you visit between the end of January and mid march, you could be in for a treat. The carnival is the biggest and craziest in northern France and if you appreciate weird local customs and serious costumes, this is an unmissable slice of French culture.
Breaking out of Dunkirk and exploring the wider area is a good idea. With a fifteen kilometre stretch of sandy beaches up to the Belgian border, the coast doesn't get too crowded. The natural landscape is an interesting mixture of sand dunes and wetlands, just waiting to be discovered by intrepid trippers like you.
Author is a UK marketing consultant writing for Britannia Coaches a Kent mini bus hire company.