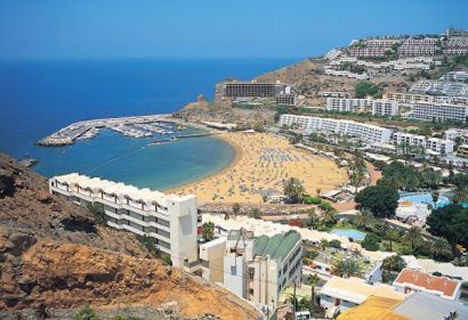 Gran Canaria is a wonderful place in Spain to take a trip to.  There are many fun and exciting places to see and so much to do.  Here we will take a look at the top ten things to do while visiting this island.
Dolphin watching.  With a day of dolphin watching, you simply hop onto a cruise, and watch as the dolphins swim and frolic in the ocean beside you.  Depending on the cruise that you go with will depend on how long you are at sea for.  One cruise line, the Multiacuatic, has a glass bottom boat for patrons  to see ocean life at its best.  Not only will you see dolphins, but whales are also a good possibility.  Recommended that sunscreen and a hat be worn on the boat to protect the skin from the sun.
Aqualand Theme Park.  Every member of the group will love this water park.  Complete with water slides, rivers, wave pools and more, there is something that will keep everyone cool.  This water park is located in the southern section of the island and has 968,752 square feet of pure enjoyment.  Park is open all year long, with some exclusions to the weather.  It is open from 10 am to 5 pm each day. The park also offers a children's play area.
Camel Park Arteara.  This park is located in San Bartolome de Tirajana and features camels. There are many other animals there as well, such as donkeys, a variety of birds, pigs, sheep, and a pony.  Get a once in a lifetime opportunity to ride a camel, and perhaps the chance to feed them as well.
If nightlife is your thing, then go for Eiffel Bar.  This bar has only been open for a few years, but it is very popular.  Located in the center of Playa de Ingles, it has a very bright setting with French inspired décor that is very modern.  There is a wide selection of drinks on the menu, from teas, to cocktails, imported beers, and coffees.  Local wine is also offered, as well as a variety of appetizers.
If you love to shop, then head over to Artesania Santa Catalina, located in Las Palmas de Gran Canaria.  This is a great shopping store with many items that are at an attractive price.  The owner is willing to be as helpful as possible, which makes the experience that much better.
Museo Parque Arqueologico Cueva.  This site was discovered in the 19th century and is a group of artificial caves that are from volcanic rocks.  Here you will find Pre-Hispanic wall paintings. Guides here are multi- linguistic, and show videos as well to make the experience that much more fulfilling.  See life how it once was in the many rooms that are available to ponder through.
Calle Triana.  Here you will find all kinds of wonderful shops, such as Zara, Douglas, and Pimkie's. A great place to just stroll around and spend the day.  There are also a variety of coffee shops and bars for when you have shopped enough. Modernist facades surround the buildings, making this area  a must see.
Mini golf Yumbo.  This golf course is located in Maspalomas.  Mini golf with the family at a reasonable price and listen to some great music while doing so.  Children are just 4,00€ while adults are 5.00€.
Moonlight Cinema.  This outside venue is located in Maspalomas. Enjoy the concession stand serving various treats as well, or have the food and drink delivered directly to your chair.
The Olympic beach gym is a wonderful place to work out if you feel inclined to.  This is located in Playa de Ingles.  This clean gym has a great staff that is willing to offer short term memberships.  There is lots of equipment as well, and it is conveniently located right on the beach front.
There are so many more great things to do while vacationing in Gran Canaria, but these are just the top ten.  So what are you waiting for?  Plan your trip today to see all of this and more.
Hi i am Rose a freelance travel journalist, I love writing about travel destinations and photoblogging. I only write about the places that i have visited and recently i visited Gran Canaria. I would suggest to rent a car when in gran Canaria as it would be a great way to enjoy various tourist destinations across the Island. You can book your Car hire from Gran Canaria Airport through this website Carhiregrancanaria.com.