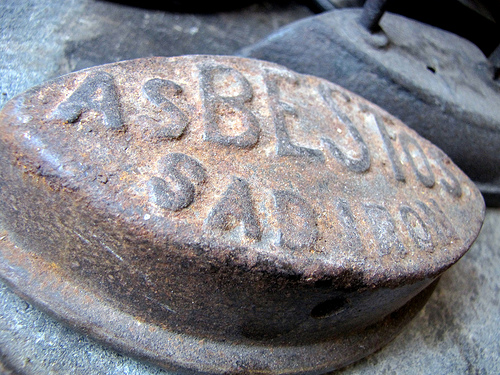 Asbestos is a naturally occurring mineral that was popularly used amongst builders and manufacturers in the late 19th century because of its strength, fire resistance, sound absorption and affordability. However, it was later discovered that prolonged inhalation of asbestos can cause serious illnesses such as lung cancer and asbestosis.
Image source and Credit : http://farm5.staticflickr.com/4072/4524164819_092d3c07d0.jpg
Whether you own a business or you think there is asbestos in your home, dealing with the problem is very important; you don't want to be responsible for people getting ill. Below are some helpful tips and advice when it comes to asbestos removal and disposal.
Keep it Legal
Use of asbestos was forbidden in the late 1980s, but it wasn't until 1999 that it was finally completely banned in the EU. As a result, it is a legal requirement that all non-domestic buildings have an asbestos survey every year if they were built prior to the year 2000.
To keep in line with regulations it is very important that you have this annual survey if you own or are responsible for a commercial building. Whether that is a scout hut, or an office block, you must ensure that these surveys are carried out so that everyone is kept safe.
Identify the Problem – Surveys
Before you hire someone to remove your asbestos, or you decide to start ripping out the walls in your garage, you need to make sure that it actually is asbestos. You can buy DIY asbestos survey kits, and look for lots of tips online that will help you out. However, the easiest way to get an asbestos survey is by hiring a professional or a company like Amicus Environmental.
Professional asbestos surveys are very affordable as well as being stress-free. With their abundant experience and knowledge experts will be able to quickly identify any asbestos issues that may arise, and offer you helpful advice about the best next steps.
Licensed and Non-Licensed Removal
When it comes to removal of the asbestos, there are 2 different types: licensed and non-licensed. When it comes to businesses and commercial buildings, they should usually employ a licensed asbestos removal specialist. This contractor should be HSE-registered and must contact the Environmental Agency to record the removal of the asbestos.
On the other hand, if you find asbestos in a domestic situation, for example, in or around your home, you do not need to be licensed to remove it. A non-licensed person can also remove small amount of asbestos in commercial buildings. However, only a professional surveyor can decide what is considered a 'small amount'.
If you can remove the asbestos yourself, then you must make sure that you do it in the safest way possible, so to protect you personally, your family and your neighbours.
Disposal
When it comes to asbestos disposal, there are a few options. If you hire a professional company to remove the asbestos they will also take care of the disposal in a safe and controlled environment.
However, if you remove the asbestos yourself then you may want to hire a skip for the collection of asbestos. All asbestos sheets must be completely wrapped, sealed in plastic and clearly labelled. This ensures everyone's safety and is a clean and easy way of disposing of the material.
Conclusion
Identifying, removing and disposing of asbestos isn't as hard as you first may think. If you want to save time, money, and reduce stress, then hiring a professional company that can complete all three of these tasks is definitely a great choice. You're sure to reap the benefits of this decision as well as saving yourself a lot of time and hassle.