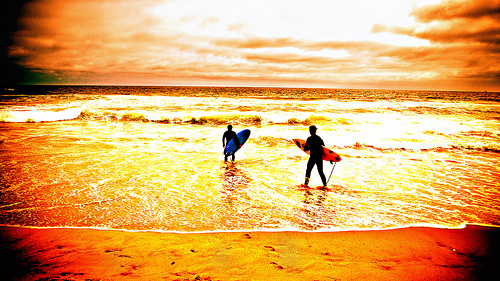 Surfing has existed for hundreds of years. Its the ultimate connection between man and nature. Watch any decent surfer doing his/her stuff and the exhilaration of catching the waves is obvious to see. So, if you are hoping towax down a board and hit the surf, where to start? Try these superb surfing locations for the thrill of a lifetime.
Cornwall, England
The Cornish landscape in southern England is a beautiful thing to behold. Situated in the southernmost part of England, Cornwall is a popular tourist destination due to it's warm climate (sometimes wet climate!) and picturesque countryside. The waves tend to rock in this part of the world and this is reflected by the popularity of the Cornish surfing scene. World championships are often held in Newquay, where the surf is good enough for the world's top surfers to turn up. Cornwall has a number of well established surf schools , making lessons an easy option, especially if you have a family with you, all desperate to hit the surf. The Raven Surf School is a great option in Bude, offering lessons to all levels of surfing. try learning here – the culture of surfing is well established in cornwall.
Tamarindo, Costa Rica
What better place to surf than a tropical getaway in Central America ? Costa Rica is becoming well known for its surfing conditions. many new surfers are combining surf holidays with a couple of weeks enjoying the beaches. In Costa Rica, the surfing needs planning ahead as three coastlines produce good surf at certain times of the year. Choosing to travel in May to November would be great if your destination was the Central and Southern Pacific Coasts. Tamarindo is an excellent base for a surfing trip as it is near two other places famed for good surf – Ollies Point and Witches Rock. Not only are the surf schools of a high standard but it is possible to combine a surf trip with a tour of the local area. Families are especially welcome in Costa Rica – it is a surfing paradise.
Byron Bay, Australia
Australians love surfing and that is reflected in the sheer number of surf schools available. Byron Bay is great choice for surfing lessons. It is a popular spot with the pro surfers, making after school people watching a great option. Take your own vehicle to takes advantage of the gorgeous beaches in the locality and take your board with you.
Wherever you choose to surf, make sure that the school is reputable and the waves are magnificent. It could be the start of an aquatic love affair that lasts forever. Take a chance and try your hand at surfing.