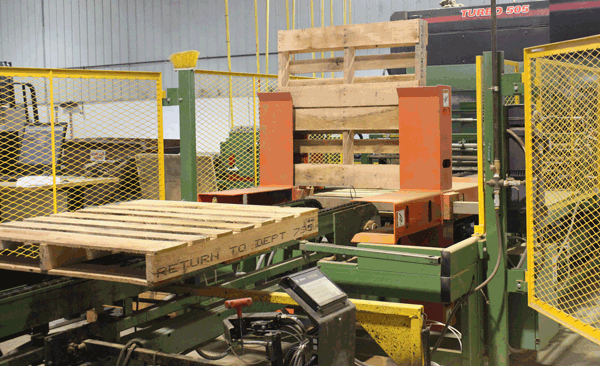 Delivering your goods on pallets is both affordable and safe. Almost anything can be shipped on pallets. Pallets don't slip and slide, they're raised off the ground keeping your items protected, even during a possible truck change. When you have a reliable courier service, shipping on pallets guarantees you an economically secure way to ship, and with same day pick up you'll be delivering on your distribution date promise. Know more about this secure means of transport, At National Pallets we're here to help you, giving you the low down and know how.
 How to Wrap
A well packed pallet saves your business money, and gives you piece of mind. First of all make sure to pack your boxes and or items close to one another. Wasting pallet space wastes money. Secondly, stack your items bottom heavy, while the journey might be a smooth one, you don't want anything slipping off the top! Goods can be held on to the pallet by either a jack strap or plastic shrink wrap. Use the straps to secure non conformal shapes, items like motors or even motorcycles are best secured by straps. Boxes won't be going anywhere with plastic shrink wrap. Prevent sliding, and keep fresh produce fresh – shrink wrap traps cold air and keeps out microbial munchers for longer.
 Pallet Shipping is Cost Effective
If you want to stick with an effective shipping and handling budget, ship on pallets and pack your truck wisely, you'll be saving big and shipping smart. Pack your pallet tight, the more that goes on a single pallet the fewer truck loads and the less that needs to be spent. Same goes for the pallets, don't leave any gaps between them on the truck! Use a type of plastic pallet called a skid. These pallets can stack 50 high when not used saving you room for more items.
If you and or your business doesn't have a pallet on the ready fear not, National Pallets can supply the driver with a pallet for a minimal fee of £12.50.
For best business practices, choose a courier service that you can trust, and who have experience and the connections you need to ship your items safely and reliably every time.