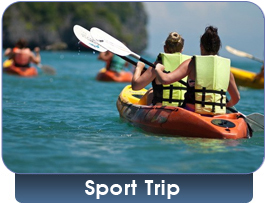 It's always been one of the most inexplicable and frustrating of all paradoxes relating to travel. For most of recent history there's been something of a phenomenon at work where travelling alone seems to be no cheaper or perhaps even more expensive than travelling as a group. From single person supplements to family deals to free kids and so many more examples, those looking to travel alone have long faced the prospect of paying above and over the odds for the privilege.
These days however, things are starting to head in a slightly more logical and fair direction. According to the experts behind www.singlesport.com, it's now perfectly possible to enjoy the unique delights of a solo holiday without the need to spend the kind of money you'd usually attribute to a family trip. As is the case with most things, it's all about making the right moves during the booking process – the following tips could stand to save you a small fortune:
1 – Shop Around
First of all, solo trips and singles sports trips are no longer the rare niche they used to be. It's perfectly possible to find a variety of vendors putting together trips and packages of all shapes and sizes for singles, which in turn means it's more than worth shopping around. Just as some will inherently offer better service than others, some will offer outstanding value for money above and beyond their rivals. So before paying any kind of deposit, shop around and make sure it is in fact a good deal.
2 – Choose a Specialised Singles Sports Agent
When shopping for a great deal, it's likely that you'll find the best deals of all being offered by the specialist travel agents who focus mainly or exclusively on trips for solo travellers. These tend to be the people that not only know where to find the best deals, but have also built unique relationships with providers all over the world and thus can offer exclusive deals not available anywhere else. Certainly before booking manually, it's a good idea to check with an agent.
3 – Go Off-Peak
Just as is the case with all kinds of travel across the board, chances are you'll score an exponentially more affordable deal if you're willing to travel off-peak. Singles sports trips tend to be organised throughout much of the year and as there's only your own schedule to bring into the equation, you might want to think about travelling at a less popular time of the year in order to amass huge savings.
4 – Try a New Resort
Since you're heading out on your own to try something new, why not try a resort or country you've never been to before? Suffice to say, the difference in price between one resort and another located just a few miles down the road can be enormous – plus there's the excitement and reward of discovering something wholly new for the first time.
5 – Book Ahead
It's worth remembering that when you are looking to sign up for a solo sports trip to another country, it might be possible that the tour company involved prefers to put groups together to travel at the same time. As such, the further ahead you book, the more chance you've got of getting the exact kind of package you want and for the lowest possible price. As is the case with most kinds of travel these days, booking in advance tends to bring about the lowest prices while last-minute bookings have the potential to be somewhat less reliable…value-for-money wise.
6 – Look for Package Deals
There will always be those travellers who instinctively favour the DIY approach to booking their solo trips, having assumed that it simply must be cheaper to handle things privately. But while there may be instances when this is indeed the case, it's usually quite to the contrary as travel agents and specialist booking services have access to the kinds of deals and package offers that are wholly unavailable to those booking privately. If looking to take a single sports trip for example, there's always the chance than an all-inclusive deal including travel, accommodation and sports equipment hire could cost exponentially less than booking each element separately.
7 – Look for Feedback
Last but not least, before making any booking or paying a deposit it's a good idea to seek feedback regarding the travel agent you're looking into. Not only will this help establish whether or not they give great deals, but you'll also find out what kind of service they offer and whether they're inclined to keep their promises to customers.