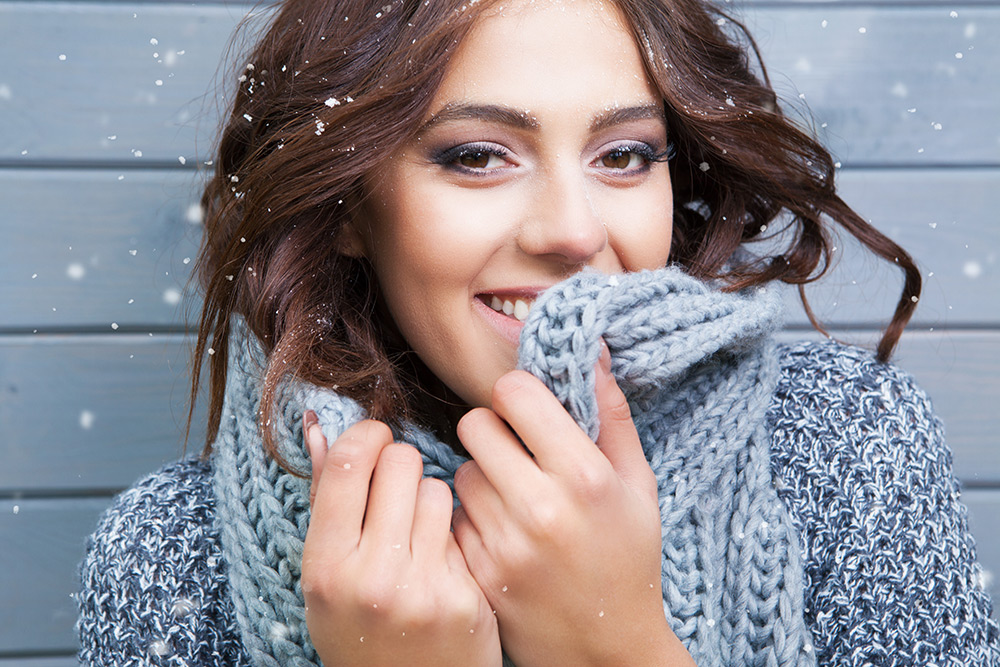 Winter is officially in full bloom, causing us to wonder how to deal with dry skin and other additional problems. It is true that the cold season is most detrimental to our skin, especially since there are so many changes to go through. From hot to cold, dealing with the wind, snow, and rain… it is only normal you would be interested in how to improve the quality of your skin during winter. To come to your rescue, we have gathered some tips, destined to help you look your best this cold season.
#1 Drink water
While this may sound like the obvious thing to do, during winter, many people reduce their daily intake of water. However, hydration is key to beautiful skin, no matter the season. It is important to understand what water not only hydrates the skin, but it also stimulates the production of collagen at the level of the dermis, ensuring its natural elasticity. If you do not drink adequate amounts of water, you will have to battle a dull appearance, not to mention fine lines and wrinkles are going to be more easily noticed.
#2 Choose a facial cleanser that suits your skin type
When it comes to facial cleansers, there are two things to pay attention to. First, the season, as you will not buy the same cleanser for winter and summer. Second, your skin type, as facial cleansers serve different purposes, according to your skin being oily, dry or normal. For winter, if you want to escape a dull complexion and look fantastic, it is recommended to go with a gel-based cleanser. This will allow you to cleanse your skin, without being too harsh or causing allergic reactions.
#3 Exfoliation once or twice per week
During winter, the dull appearance is mainly caused by the accumulation of dead cells on the surface of the skin. For this reason, it is recommended to exfoliate, at least once or twice per week. In this way, you will ensure the natural radiance of the skin but, at the same time, you will also allow for other skincare products to penetrate the skin. The one thing to remember is to choose an exfoliating product that suits your skin type or, if possible, prepare a natural scrub in the comfort of your home. After exfoliation, apply your regular moisturizer, as this will have a soothing effect on the skin.
#4 A rich moisturizer for perfectly hydrated skin
Speaking about moisturizers, if you want to maintain the beautiful appearance of the skin, you need one that has a rich texture. During winter, the skin gets easily dehydrated, so it might need some extra help to look fantastic. A rich moisturizer will deliver all the necessary vitamins and nutrients to the skin, ensuring that your skin stays perfectly hydrated. The only situation in which such kind of moisturizers is not recommended is if you have oily skin, a lightweight texture being more suitable.
#5 Spring for a serum with anti-aging properties
Just because you are still young and you are not showing any signs of aging yet, this doesn't mean you should not consider anti-aging products. In fact, the best anti-aging product is the one that can help you not only address the present signs of aging but also prevent new ones from forming. So, do not wait until the first wrinkles become obvious but rather go ahead and use such products for preventative purposes. These will help you get through the cold winter season, looking better than ever.
#6 Use toner as part of your skincare routine
Many women are afraid to use toners, as they are not certain about the kind of product to choose and the effect it will have on their skins. However, if you want to improve your skin quality during the cold season, you need to include this product in your daily skincare routine. First and foremost, you have to choose a toner that suits your skin type. For example, if you have dry skin, avoid toners that contain alcohol. Second, you should use a toner that has a hydrating effect at the level of the skin, with natural ingredients as part of the formula.
#7 Hydrate your skin during the night
During the night, the skin suffers from dehydration, especially if the air in the room is dry and warm. Apart from using a humidifier, it is recommended to use skincare products that are especially meant to hydrate the skin during the night. You can opt for a hydrating night mask, a rich moisturizer or any other similar product. And, as most of the skin repairing is done throughout the night, consider using skin care products, such as the Derma Divine, a product destined to help you look young and beautiful.
These are some of the tips you can follow, to improve the overall quality of the skin during the cold winter season. As you have seen, it is essential to establish a proper skin care routine and include the right products.
Also watch video on Skin Care Routine to Try This Winter