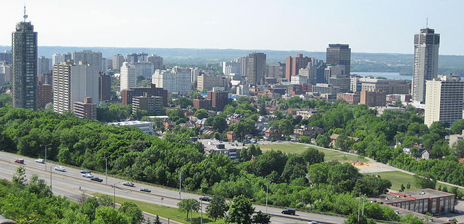 Ontario has plenty of ways to fill up your days while traveling here. Niagara Falls has served as a premier honeymoon destination in North America and remains a jaw-dropping draw for millions of visitors every year. The city specializes in historical and cultural attractions and is home to more than one million square kilometers of land, 400,000 lakes, rivers, and streams. The capital city of Ontario, Toronto stands tall in the line with New York City, San Francisco and Chicago when it comes to cultural attractions and urban activities. So, book a cheap flight to Ontario with CheapOair and save more money to spend on discovering the city! Read down to know what to see and where to eat while you are holidaying in Ontario.
• The CN Tower – The CN Tower attracts millions of tourists looking for a bird's eye view of Toronto and the surrounding areas. This tower was once the tallest free standing building in the world; it has a glass elevator which takes you to a height of 1,122 foot. The tower dims unnecessary exterior lights during bird migration seasons to prevent bird injuries.
• Yonge Street – Your shopping can be considered incomplete you haven't shopped at the Yonge Street. It has been listed in the Guinness Book of World Records as the longest street in the world of about 1896 kilometers and if you are lucky enough you can also get to see some live street and theatre performances.
• Old Fort William – Now known as Fort William Historical Park, it is a Canadian historical site located in Thunder Bay and is one of the largest living history attractions in North America. The fort has the best historical reenactments available in Ontario.
• Niagara Falls- To experience the raw power of nature, make way to the Niagara Falls that has served as a premier honeymoon spot for centuries. Up to 6 million cubic feet of water plunges over the crest of the Niagara Falls every minute and for a bird's eye view of the place visit the observation decks at the nearby Skylon Tower or Minolta Tower.
• 360 Restaurant – The 360 restaurant is located in the CN Tower and is the best place to have a wonderful dinning and the most spectacular view of the city. While you dine the restaurant also revolves slowly, so you get more than just a single view of the city from the highest part of the city. You have a wide choice in the Lunch and Dinner menus and yes don't forget to make a reservation before you show up.