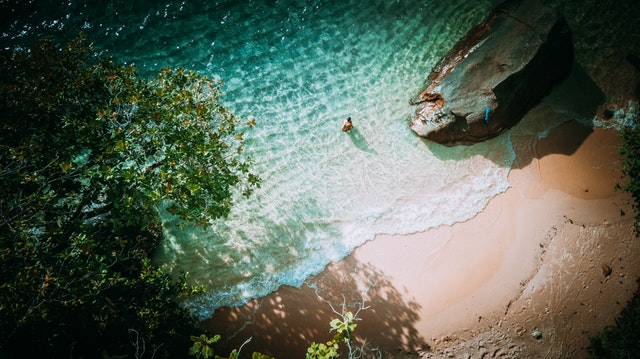 The prospect of travel is always exhilarating. One aspect of travel that is not so exciting is packing. Packing for a trip can be quite overwhelming. There is an endless list of items that need to be assembled and packed securely to ensure that your trip goes smoothly.
Proper packing is a skill that takes time and experience to perfect. Everyone has a list of must-have essentials based on making sure that your entire journey is comfortable and enjoyable.
While you might have your itinerary planned to the dot, it is always good to be mindful of any unfortunate incidents or emergencies such as lost luggage, delayed flights, etc.
We have compiled a list of 20 must-have items that will prepare you for anything that your trip throws at you and make sure that you have the most comfortable and relaxing trip.
Water Bottle
No matter where you are, learn to prioritize yourself and keep yourself hydrated. A water bottle is one of those items that we tend to overlook. A water bottle will keep you from running back and forth across terminals every time you feel thirsty.
Additionally, keeping one bottle on hand prevents wastage because you will not be discarding plastic bottles as you go. It keeps you hydrated and helps the environment, a water bottle is a must-have.
Travel Pillow
Travel pillows are a real savior on long flights and layovers. There is no denying the fact that both flights and layovers are incredibly stressful on your back and neck. Every bit of comfort makes a world of difference when traveling. Spare yourself the extra pain and strain and get hold of a travel pillow. You will thank us.
Eye Mask
An eye mask is your best friend on flights. They are comfortable and compact to carry and super convenient on flights and layovers. Treat yourself and splurge on a silk sleep eye mask and get a taste of luxury – your life will never be the same.
Travel Wrap or Scarf
Regardless of whether it is 40 degrees outside, you need to keep a scarf in handy. Airplanes do not come with a temperature forecast, and it almost always gets too cold. So packing the right stuff will always help. Having comfy wraps in your hand-carry luggage is always a good idea so you can wear them if it gets too cold. The best part is that scarves are super trendy and versatile, so you do not have to worry about how they will compliment your outfit.
Socks and Compression Tights
Travel usually involves long flights, and long flights can be particularly grueling on your circulation. Compression tights and woolen socks are excellent for aiding circulation in your legs. Many amongst us get cold feet (literally, not metaphorically). In such cases, wearing compression tights or socks under comfortable, warm shoes such as Blacknose Sky Woolers will prevent your feet from getting cold and developing serious symptoms such as swelling and blood clots.
Headphones and Earplugs
Noise-canceling headphones and earplugs are a god-sent essential that has made travel twice more bearable than before. Airports and flights are noisy. No one wants to listen to the neighbor's baby throw the tantrum of a lifetime. Noise-canceling headphones or earplugs will cancel out all the sound and allow you to enjoy your trip exactly as you had planned.
On-the-go entertainment
When you are waiting and sitting in one spot for hours, it can be quite challenging to kill time. For this reason, you should always prepare for entertainment on the go that will keep you busy and not bore you. Download movies or books on your iPad or your phone. If you love to read, be sure to keep a couple of books or your Kindle on hand for some relaxing in-flight reading.
Portable Charger and Cords
While planes do have USB charging slots available, it is always best to have a backup. Portable chargers are game-changers have made life so much easier. Your power bank is your best friend if you have plans to watch an enticing TV series or work. For extra backup, pack a portable battery in case things go awry.
Essentials Pouch
Everyone needs a pouch filled with mid-flight essentials, so you do not have to retrieve things from your luggage every half an hour. From hand sanitizer to hand cream to painkillers for that excruciating headache, keep your essential pouch in your bag at all times for a smooth in-flight experience.
Disinfecting Wipes
Public places are disgusting. A packet of wipes will come in handy for wiping surfaces, so you do not contract any unwanted illness.
Skincare
Traveling can take a toll on your skin big time. A moisturizer and a cleanser are two must-haves skincare items. For an added spritz of freshness, facial mists are super revitalizing. Keep some spot treatment on hand to avoid or minimize any holiday breakouts.
Sunscreen
Sunscreen is an essential item that you should carry, regardless of whether you are traveling or not. Sun damage is no joke because its effect can last for years to come. If you think you are safe in-flight, you are wrong. If you are seated at the window seat, you need sunscreen more than anyone does because you will be exposed to more UV rays at higher altitudes.
Make it a habit to apply sunscreen timely. Look for a lightweight, breathable, and water-based formula as they work the best for your skin.
Lip Balm and Hand Cream
The dry in-flight air is not only damaging to the skin but also your lips. Nobody likes dry and chapped lips. Get your hands on a good lip balm so your lips can stay plump and juicy. Keep a good non-greasy hand cream on hand as well, so your skin can stay moisturized too.
Toiletries
These come in handy during flights and if you lose your luggage by any chance. Pack a spare travel-size toothbrush, toothpaste, shampoo, and moisturizer for emergency use.
First Aid Kit
First aid kits are essential that you need at all times on your trip because, in case of any trouble, the last thing you need to worry about is running around a foreign pharmacy for supplies. You will need basics like Band-Aid, a topical disinfecting ointment for cuts and bruises, painkillers, probiotics, anti-diarrhea medicine, and something to help with motion sickness. If you take prescription meds, be sure to pack them with your prescription as well.
Snacks
Traveling can be tiring, so it is always smart to pack some snacks in your bag. The trick is to keep something nutritious that will make you feel energized and rejuvenated like energy bars. They are loaded with healthy fats, fiber, and nuts that are not only delicious but also super healthy. Throw out the crisps and cookies and snack on nuts and granola instead.
Travel Adapter
We often forget that every country has a different plug outlet. You do not want to be stranded in a foreign land with no outlet to charge your phone. Keep a travel adapter to make your life easier.
Travel Wallet
Traveling requires an array of documents that need to be on hand all the time. A travel wallet is a compact solution to your problems as it can accommodate your cards, cash, tickets, copies, etc. It prevents you from going to every stop, and pulling out everything from your bag, making your journey convenient and comfortable.
Rainwear
Some love rain; others do not. Regardless, rainwear is an essential item, whether it is a raincoat or an umbrella. You must ensure that your documents and essentials do not get soaked up in the showers.
Passport Copy
Keep a copy of your passport on you at all times along with your visa details. In any case, if you need to verify your identity, you know what to do.
Parting Thoughts
Travel exposes you to unknown realms. It is both exciting, but if things do not go as planned, your leisure trip can soon turn into your worst nightmare. If you are spending a fortune to have a good time, make sure to go the full mile and take these steps to ensure that your trip is a memorable and fun one.