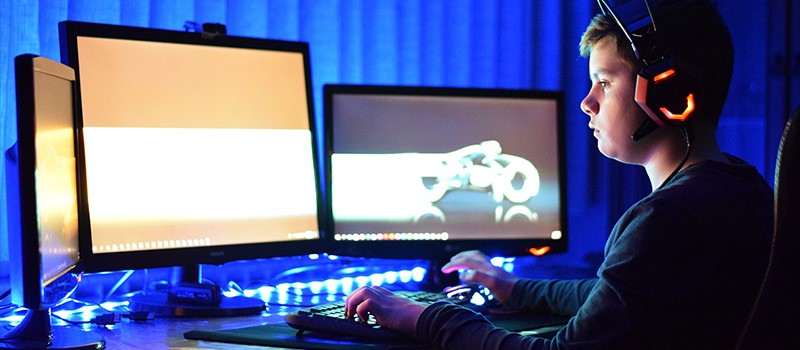 Every video game enthusiast's dream is to have a gaming room equipped with all the gaming essentials. Establishing a separate room specifically for playing video games is important for the comfort and enjoyment of video game lovers. Although gamers can play video games anywhere, but a gaming room lets them play games without interruption.
Gaming room designs may vary from person to person. Gamers can customize and design gaming rooms according to their tastes and interests but following are 10 essential things that a gamer must add to his gaming room:
Adequate Room Size
The size of a gaming room plays an important part, it should be moderate in size; not too large and not too small. You need to make sure that the room is not small enough to make you feel uncomfortable and on the other hand it should not be large enough because in that case some space will remain empty. Size of gaming room also depends on the number people you wish to accommodate, so you need to be careful when considering the room size.
High Quality Speakers
Sound effect is important because it directly effects the excitement level while playing video games. In order to experience a good game, you need to make sure that you have a good sound system installed in your gaming room. Now a days, you can also find wireless speakers that means a good sound effect without tangled and messy wires in the room.
Gaming Chair
For video game enthusiasts who play video games for hours, a racing gaming chair can save their body from hurting or being tired. Gaming chairs are styled on a rally car design that will add a special effect to your gaming room. These chairs are manufactured using high quality fiber and it is also height adjustable. Racing Gaming chairs consist of armrests and can swivel 360 degrees to make you feel as comfortable as possible.
Soundproof
Installing soundproofs will boost the sound quality of a gaming room which will eventually affect the room's atmosphere and players' mood. Soundproofs are essential for sound concealment. Soundproofs are most commonly installed in ceiling and walls with layers of insulating foams or drywall specially designed for noise cancellation inside structures.
Projector/TV
If you wish to enjoy your game on a bigger screen instead of small PC screen than installing a projector or LED TV is the best choice for enhancing the gaming experience. However, a projector comes with adjustable range and size that you can set according your needs, LED TV will not allow you to do so.
Setting Up Electricity
Managing tangled gizmos and wires is a challenge for gamers, to deal with this problem find a permanent solution while establishing gaming room. You need to be very careful while setting up electricity in your gaming room, you can try setting up wires under the carpet or behind the racks. You can also connect them together with the help of top-quality extension cable. It will make the room look neat and organized.
Shelves for Console and Accessories
You can be as creative as you want to be while designing the shelves for storing your console collection and accessories. It will not only make your life convenient.
Proper Lighting
To add an elegant touch to your gaming room, try adding medium moody lights to it. A gaming room should not be too bright as it will not compliment the gaming room atmosphere.
Wi-Fi
Prefer using wireless networking that will directly connect to the console. A game enthusiast can understand the importance of a strong internet connection while gaming where you can enjoy your game without buffering.