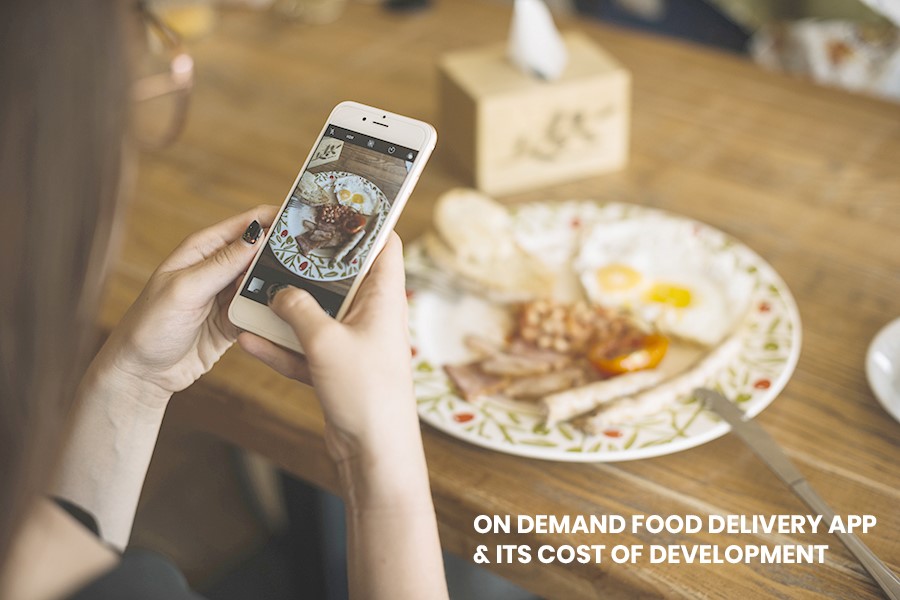 We are now living in a world which is highly powered by technologies. The way businesses used to operate earlier is changing quite rapidly. One such disruptive trend is to Hire Mobile App Developer and build mobile application in order to improve the delivery service of the businesses.
Mobile apps have become highly important for businesses which want to expand fast and provide better customer service. One such business where mobile apps have brought kind of revolution is the on-demand food delivery business. Earlier people used to order food delivery through a phone call or by visiting the restaurant personally but this has changed now.
With the advent of internet, people begin to order food through dedicated websites of the restaurants. However, now with almost every person on earth owning a mobile phone and with billions of people using mobile apps installed on smartphones, now they prefer to order food using mobile apps. This gives them better service which is much faster, convenient and secure as compared to earlier modes of food delivery. That's why so many businesses have started to invest in the development of on-demand Food Delivery app to tap this growing market.
Let's look at the following statistics provided by this Statista report on online Food delivery: –
Revenue in the Online Food Delivery segment amounts to US$107,438m in 2019.
Revenue is expected to show an annual growth rate (CAGR 2019-2023) of 9.9%, resulting in a market volume of US$156,819m by 2023.
The market's largest segment is Platform-to-Consumer Delivery with a market volume of US$53,786m in 2019.
In global comparison, most revenue is generated in China (US$40,239m in 2019) followed by US and India.
The major players in this segment are UberEats, GrubHub, Swiggy and Zomato. With the right kind of Mobile Application Development Strategies, anyone can launch his food delivery mobile app in the market. Let's first discuss some of the benefits of Mobile Apps for On-demand Food Delivery before we explore it further.
Benefits of Mobile Apps for On-Demand Food Delivery: –
Mobile App Connects You Directly to the Customers
Nowadays most of the people carry a smartphone and when they use it to order food using the mobile app then there is no one in between the customers and the company running food delivery app. Hence, the mobile app helps the food delivery business to directly connect to the customers. Using the mobile app, the customer can easily look at the menu, select the food items of their choice, check out their price and finally order the food item for home delivery.
Moreover, after selecting the food item, they can order it online and easily pay for it through internet banking, debit/credit card, mobile wallet or even choose cash on delivery option.
In this way there is direct communication happening between the business and the customers. Through mobile apps, the businesses can provide as much information as they want, to their customers. You can check any of the Best Food Delivery App in USA like UberEats, Grubhub, Doordash etc. and you will find all of these provide these important features.
Ordering Food Through Mobile App is Easy, Convenient and Time Saving
Now everyone knows that ordering food through Mobile App For Food Delivery brings many benefits like it is much easier, convenient and time saving than how people used to do this earlier through phone calls. For example, a mobile app can be highly personalized as per the requirements and tastes of the customers. The best thing is that the customer can use several available filters on the app to select what he actually wants.
Like, you can add filters to the app to choose only vegetarian or non-vegetarian food. They can also include filters to have or have not chilies in the food. Similarly, you can add any number of filters, which will help your customers to choose a dish, which they like and in the quantity which they need. If the same thing is done through a phone call, then it will take longer time to explain and also they cannot see the picture of the food item they are ordering. Hence, when you look to Hire App Developer don't forget to discuss this point with him.
Expand Your Business Rapidly
Another major benefit of on-demand mobile app for ordering food is that once you have developed the mobile app and launched it in the app store, you can quickly scale up and expand your business rapidly. Even if you build a Cheapest Food Delivery App, you will get this benefit easily.
For example, suppose your mobile app for ordering food becomes popular and more restaurants want to join your app to offer and sell their food items through it then it is very easy to add them into your mobile app and you just need to add their information into the database of the mobile app. Also, if number of customers suddenly jumps up then the same mobile app can handle them easily. Hence in order to expand your business you don't need Mobile Application Developer make changes to the app and the same app can take care of these things easily and you can expand your business easily without any problem whatsoever.
Send Notifications to the Customers and Offer Discounts/Offers Instantly
Another benefit of on-demand mobile app for ordering food is that you as an app owner can send notifications, discounts and special offers to your customers instantly. The people who have installed your mobile app will be able to get to know about your offers through the mobile app on their smartphone whenever they will open their phone. This is the fastest way to reach out to your customers and this will also help you in refining your Food App Development Strategies.
This will lead to so many old and new customers order more number of food items or order more frequently to avail such offers or discounts. Sending these offers through mobile app is much more easier, faster and convenient then how businesses used to do it earlier i.e. either through phone calls, banners, posters or by using other marketing methods.
Important Features to Include in the Mobile App for Food Delivery
The features in the mobile app for food delivery can vary depending upon the type of the business which is launching the app and the target audience. Here we will give you the most common features which need to be there in the food delivery app for different kinds of users if you want to make the app a success in the market. Mainly we have to develop four modules of the app which are: –
Here are some of the features which you can include in your restaurant app to give best services to your target audience.
There should be a customer registration section so that you can track the customers' preferences and provide them with personalized services through the mobile app.
The food delivery app should have a selection module through which the customer can select the type of food items i.e. whether it is North India, South Indian, Mughlai, Chinese or Continental.
The mobile app should have a schedule delivery option, which should allow customers to pre-book an order. They should also be able to deliver it to their choice of location on a particular day and time.
Customers should be able to log into the mobile app using their Google or Facebook account so that they don't need to make a separate and new login account to use the food delivery app.
The app should provide the complete address of the restaurants so that the customers can select the ones which are nearest to them.
You should provide the restaurant menu in the app so that the customers can choose the food items and compare their prices.
You can also add push notification system so that special offers and discounts can be sent to the customers.
There should be an online tracking system in the app so that the customers can check the status of their ordered item.
There should be a section in the app containing the favorite food items. Here there should be a list of the earlier choice or orders of the customers so that they can select from them and re-order quickly.
There should be a feedback section in the app so that you can improve the services of your food delivery app.
There should be an option for in-app payment through payments gateways.
Driver or Delivery Person App
There should be all the orders placed through the app with their location. This way you can manage the order more efficiently.
There should be a section having all the real-time tracking information of all orders that are either dispatched or in the process. By this way you can make sure that customers are getting their orders on time.
There should be an in-app notification of all new orders so that these can be delivered to the customers quickly.
There should be a section where you can see the availability of the food items when the order is placed. By this way you can inform the customers if the particular food item is unavailable when they are placing the orders itself.
There should be an order and payment history in the app so that the owner can go through the past history of the clients.
There should be real-time information of all new orders for the owner. This will help the driver or the delivery person to manage his dispatch process so that all customers receive their orders on time.
There should be a section which should tell the owner when the delivery is made. This way he can better manage his people and it will also help him to provide better customer service.
There should also be a help and support section.
Admin Panel
The admin panel is a separate part of the food delivery app to manage the backroom services of the app. It should have the following features: –
There should be a backup and restore option for the database in the admin part of the app so that the admin can restore the data if it gets corrupted or deleted in some way.
It should have a section for location management which will allow the admin to track the movement and status of all the delivery persons on a real-time basis.
It should have a messaging feature which will inform the customers about the time when their order will arrive along with the price they have to pay.
If you are advertising about your app on different channels, then there should be a section to manage such advertisements channels so that you know from which channel you are getting most of the traffic.
The admin should have a full control over the management of the app so that he can delete or edit any information which is required for proper functioning of the app.
The admin should be able to access the category management system.
There should be an option for admin to change the database or other important passwords from time to time.
There should be a complete record of all of your clients, delivery persons, customers and other business associates in the app for the admin users.
Restaurant Panel
In the restaurant panel there should be an option to select a new menu as it may be required to update the menu from time to time as per the demands of the customers.
In this part of the app, the restaurants should be able to inform the customers about the opening and closing timing of the food delivery service. The admins should be able to update this information as and when required.
There should be a feature to know about the customer order status. By this way the restaurant owners can know how much time is needed to prepare these orders and if any order is taking longer time then they can direct its staff to speed up the process.
There should be a messaging option by which the restaurant owners can directly inform the customers regarding their acceptance of the order, time of delivery and the cost price of the order.
The customers should be provided multiple payment gateways options. There should be a choice to pay either by internet banking, debit/credit card, mobile wallets or Cash on delivery.
It is better if the app uses some technology solution to work in different languages as per the target audience or customers' locations.
You should also provide discounts and cash benefits to the repeated or loyal customers.
You should also provide a social engagement section in the app so that you can interact with your target audience through blogs, images, videos or chats.
We have tried to cover all of the features which are required to develop a food delivery app and categorized them under different heading namely Customer App, Driver or Delivery person app, Admin Panel and Restaurant panel.
These points cover most of the features. You can select any number of features into your food delivery app. The cost of development of the app will depend on the number of features which you want to include into your app. Hence you can plan and choose only those features which are essential for your business and which you can afford. But one thing is sure that Future of Food Delivery Business in USA  and throughout the world is very bright and if you plan and execute well then you will achieve definite success in this business.
Technology is evolving very fast and I am sure in future you will be able to add even more features and provide better service to your customers.
New Trends and Technologies Which Are Going to Benefit Food Delivery Apps –
Artificial Intelligence (AI) for personalization and recommendation engine.
IoT for smooth operation and keeping all data connected and intact.
Chatbots to enhance the customer experience and reduce customer support expenses.
Voice Based Ordering so that customers can place orders by directly interacting with devices like Alexa.
Augmented and Virtual Reality (AR/VR) to provide 3D model of menus and to give virtual pleasures to customers.
Cost of Designing and Developing an On-Demand Food Ordering/Delivery Mobile App: –
The cost of an on-demand food ordering and delivery mobile app will depend on the functionalities and features which you want to include into the app. These features depend upon your business, your targets, audience, platforms and technologies you choose to develop your app. The cost will also depend on whether you hire full stack android developers or full stack iOS developers. Keeping all of the above discussed features in mind here is the average cost of developing such an app: –
Cost of an app with basic set of features – $10,000 – $25,000
Cost of an app with advanced features – $25,000 – $50,000
This cost has been calculated assuming you Hire Mobile App Development Company from some offshore location like in India from where you can hire developers at the rate of $25-$50/hr. But if you hire developers from US or Europe, then the cost of developing such an app will increase accordingly. Other than this cost you should also make Food Delivery App Marketing Plan well in advance to manage your total cost effectively.
Conclusion
We have just discussed how smartphones and mobile apps have revolutionized the ways people used to order food items earlier. Now with deep penetration of internet and mobile phones in the market the demand for on-demand food delivery mobile apps is increasing quite rapidly. Therefore, so many businesses are looking to hire Mobile App Development Company in USA or in India to launch their food delivery apps having different sections like customer app, driver or delivery boy app, admin panel and restaurant panel within the complete app.
We have also discussed the average cost of developing such an app and which are the new technologies that have the potential to disrupt the food delivery app development market by offering many benefits in future. If you also want to launch such a food delivery app then I am sure this article must have provided you with the right and required information and about how you should proceed to develop the app.