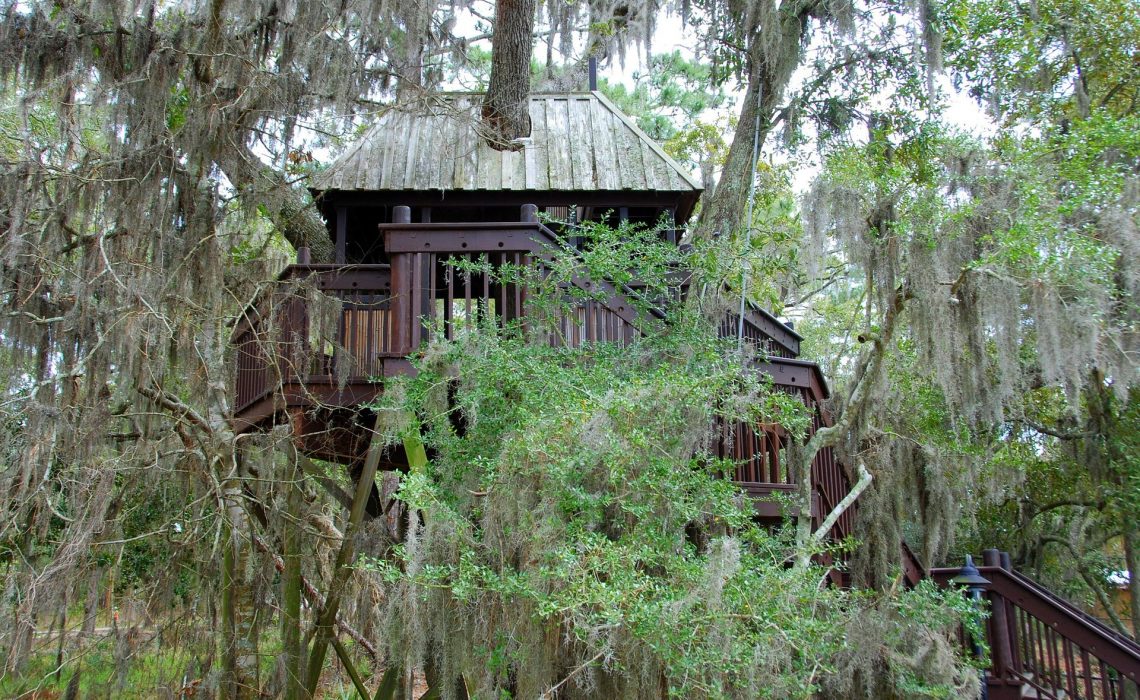 One thing is for certain; a tree house can become much more than an amazing playhouse in the sky for the youngest members of your family. Even though the internet is full of intricate plans, designs and detailed diagrams, it can be quite confusing to sit down and start working on your very own tree house, especially when you do not know where to start off from. In fact, a tree house does not have to be made only for the kids to enjoy! Did you know that throughout the course of human history, similar constructions were made for escaping from floods and getting away from intruders? So, whether you have decided to build your very own tree house for the kids to have a place to fool around, or you just want to have fun and make it your adult getaway, here is a detailed guide on how to get started.
Pick out the perfect tree
The very first step one needs to take when building a sturdy tree house is carefully picking out the perfect base for the construction work. Make sure to look around your yard and choose a healthy and strong tree to ensure that you get maximum support. The best way to go when picking a tree house host is to consider an oak, maple, beech or hemlock. Next, decide how high you want your construction to be. Even though it sounds cool and fun to have a hideaway way up in the sky, this may prove to be more complicated and possibly dangerous. Instead, build it high enough, so it is possible to walk underneath it without getting a bump on the head. The best thing about keeping it low is that the kids will be able to climb up to enter, but it will not be as dangerous and life-threatening as a house up in the sky. Of course, do not forget that the tree you have picked will still be able to grow in height, so do not make your spacing too tight! Instead, be flexible and allow for movement and growth. One of the best tricks in the book is to use spacers in between the beams to ensure that such issues are avoided.
Keep it sturdy
The next step that needs to be considered is leveling the floor to make sure that the tree house's weight is completely supported. Various methods can be taken to get the best results possible, such as laying beams across the branches of a single tree or running the beams between the trunks of different trees. The best thing to do if you are scared of movement caused by the wind is to get your hands on floating brackets. By choosing the highest-quality brackets and supports, injuries can be completely avoided. In fact, floating brackets and quality tree house fasteners can be ordered from a bunch of suppliers no matter where you are located. Although these bolts are not as cost-effective and they might also require the use of special tools, they are the best choice to make sure that the tree has enough room to grow. Also, they are able to hold much more weight than regular bolts. When doing construction work such as this, it is mandatory to keep the tree as healthy as possible. So, pay close attention to cables and ropes and make sure not to drape them over the branches because this might lead to eventual breakage. Also, do not keep the fasteners too close to each other, because they may weaken certain parts of the tree. Instead, keep them well-spaced!
Check the basics
Of course, make sure to install the basics first before going over the top with the fun additions. For example, without a quality ladder or stool, no one is able to climb up and enter the magical fort. If the tree house is close to the ground, then consider investing in anti-slip step ladders by brands such as Sitecraft. In addition, experts recommend considering investing in a platform ladder or special types of access platforms to maximize safety. Only after the basics have been covered, should one move on to the actual decorating process. The best way to do this is to get the kids involved and ask them to help you out. Choose different colorful throw rugs, blankets and cool-looking pillows to cover the deck and make the whole tree house appear cozier. Most importantly, let your imagination run loose!
Accessorize
What is a tree house if it does not come with a selection of fun accessorize and features fit for anyone's imagination? As soon as you have completed the basic structure, you can move on planning and adding the finishing touches to make the dream tree house come to life! Consider fun additions such as trap doors, slides or swings. If you are feeling uninspired, then there are sites such as Pinterest or WeHeartIt which are ideal for a daily dose of inspiration! Do you have kids in your family who are obsessed with pirates? If so, then consider installing a captain's wheel or getting your hands on an authentic looking pirate chest. Or do you know someone who wants to become a fireman when he (or she) grows up? For the future brave fireman, a fireman's pole is the perfect choice to go.
In summary, your very own tree house may be the biggest project you will work on, so take some time to plan out all the details before getting started. In the end, you will be left with a magical getaway where any child or even adult will enjoy spending quality time.