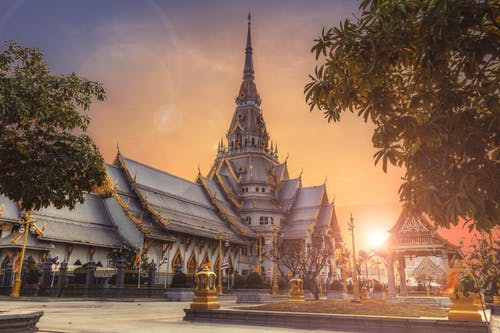 Thailand is one of South East Asian's most visited countries and the center of tourism. It has attracted millions of people from around the world. The heritage sites, culture, beaches, and the people are the main attractions of travel Thailand. It could be a daunting task to set the destinations. This article highlight five must-visit destinations in Thailand. If you're planning to visit Thailand soon, this article could be your guide.
1. Bangkok
The capital city Bangkok is a mandatory destination in Thailand. There are various attractions in Bangkok including historical buildings, museum Buddhist temples, culinary festivals, shopping centers, and many more. The city offers a complete set of modern life, culture, religion, and history altogether. You'll find that each district of Bangkok is diverse against each other.
2. Phuket
If you want to enjoy the beach and water views or excitements, then Phuket is the best destination. Phuket is home to world's famous beaches including the Patong Beach, Kata Beach, Karon Beach, Surin Beach, and Kamala Beach. You can also enjoy a wide range of water sports like scuba diving, parasailing, and so forth. In the night, the Phuket transform itself into the center of night attractions.
3. Chiang Mai
It's the popular destination beside Bangkok with tons of city attractions. Some highlighted destinations including Chiang May City Arts and Cultural Center, Buddhist temples, and various cultural festivals. If you visit Chiang Mai between January – February, there are at least five big cultural festivals including Flower Festival, Handicrafts Festival, Orchid Festival, Umbrella Festival, and many other festivals.
4. Pattaya
Pattaya is also the most familiar tourist destination in Thailand. It's a mandatory destination to visit. In fact, Pattaya is the most developed tourist destinations in Thailand. There are resorts, stunning beaches, bards, water sports, and other activities in Pattaya. The good news is that the accommodations, transportation, meals are still affordable and don't forget about authentic Pattaya massage.
5. Krabi
Krabi is a province town situated at the south of capital city Bangkok. You can easily reach Krabi from Phuket. The town offers more private beaches with luxury waterfront hotels. Krabo could be the most premium tourist area in Thailand if you see it as a whole. It might be less popular than the other four due to a very segmented market. If you want a more private yet unique vacation experience in Thailand, put Krabi in your itinerary.