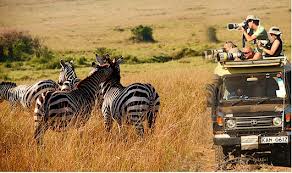 If you love adventure, going for a wildlife safari would surely appeal to you. And where would you get the best wildlife experience other than in Africa? Kenya is a country in the African continent that offers some of the best wildlife safaris. Spectacular wild life, gorgeous landscapes, etc., are some of the characteristics that can make your wildlife experience truly extraordinary. So let's try to get some important information on Kenya wildlife safari.
When you are planning to go for a wildlife safari to Kenya, the first thing you would look for is a Kenya safari package. You will find several from which you have to choose the one that you feel is the best. Although each tour package would be different, all of them would have some common features. These would be the things that no one should miss while on a wildlife safari tour in Kenya.
Maasai Mara National Reserve is an important part of all Kenya wildlife safaris. Apart from the vast wildlife that is possesses, this national reserve is well known for the annual wildebeest migration. During the months of July and August, wildebeests and zebras migrate from Tanzania to look for food and water. This is a spectacular view that should not be missed by tourists.
Kenya is a land of several national parks that are the home of a vast species of animals and birds. Some of these national parks are definitely a part of the wildlife safari experience. Nairobi National Park is one of the well known national parks of Kenya. This national park, though not very huge, sits in the center of Nairobi, which is the capital of Kenya. Some other national parks of Kenya include Hell's Gate National Park, Mt Longonot National Park, Lake Nakuru National Park, and Mt Elgon National Park. These national parks house several wild animals like lion, elephants, cheetahs, etc. Along with that, you can also view spectacular landscapes too. Lake Nakuru National Park needs a special mention here. This national park is around the beautiful Lake Nakuru. While the national park is full of exotic bird species and wildlife, the lake is the home to beautiful group of pink flamingos.
Loita Hills lies to the north-east of Maasai Mara and is said to be Kenya's last remaining wilderness area. Here you will find several remote forests, gorgeous hillsides, open plains and little wildlife too. Though this is not widely visited by people, it is the best place to visit if you want to know about the traditionalMaasai culture. It is a peaceful place, best to have a relaxing holiday, especially after the adventurous Kenya safari tour.
The wildlife safari in Kenya is not just about viewing the animal and bird species of the land; you also get to meet the traditional tribes and learn about their culture. Whatever maybe your reason for going on a safari, you are sure to have an exhilarating and wonderful experience.