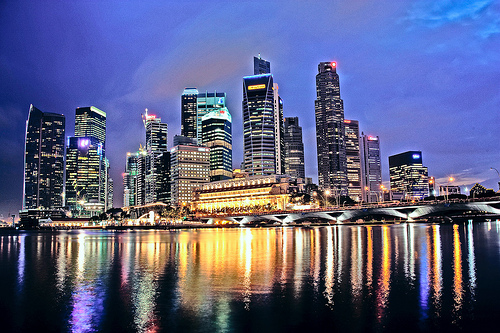 While Singapore may be a relatively small city located on a relatively small island, it is actually the second most populated city in the world, and you can therefore expect that there is a lot to see and do when you visit this modestly sized tourist attraction. Are you planning your first ever trip to the city of Singapore? If so, be sure to look over this travel guide:
Singapore Culture
You might be wondering what you can expect from Singapore, as it seems to be isolated from the rest of Asia on its small island. Basically, Singapore is a conglomerate of Asian cultures, as it is populated by Chinese, Malays, Indians, and a good number of expatriates from countries all over the world (about 25% of Singapore residents are actually foreigners). Therefore, you can expect to experience a unique blend of cultures when you visit Singapore.
Singapore's Districts
Singapore is divided into a number of small communities, or districts, each with its own distinct feel. The center of the city is comprised of the Marina Bay, Orchard Bay, and Riverside districts, where you can find plenty of shopping and accommodations, as well as some great people watching. If you want to do some nature sightseeing, then check out the North East, Tampines, and East Coast Districts. To soak up some culture, head over to the Chinatown and Little India districts. If its entertainment you want, then the Sentosa district is about as close to Disneyland as you can get.
Language
One of the most difficult parts of getting around in Singapore is the language barriers. There are many different languages–including Mandarin (the working, or unifying, language) Chinese, Cantonese, Teochew, and Hokkien–spoken in Singapore, as well as many dialects of those languages. Be sure to brush up on your Mandarin or Chinese (or to carry some great language guides) when you travel through Singapore, if you want to communicate with the residents. While many Singaporeans speak some English, you will find that they speak a type of English that is very difficult to understand (typically referred to as Singlish).
When to Visit Singapore
Generally speaking, Singapore is a sunny and temperate place. However, Singapore also experiences regular rain throughout the year, and if you can help it, you might want to avoid travelling during the Singapore monsoon, a period of heavy rainfall that takes place between November and January. Whatever time of year you travel, you can expect a colorful cultural experience, as Singapore hosts a number of festivals throughout the year, including the Lunar New Year Festival, the Dragon Boat Festival, and Deepavali.
If you are headed to Singapore for the first time, then you are in for a trip you will never forget. Check out some of HolidayBird's Singapore packages and prepare to do some exploration of your own as well. Keep these basics in mind to make the most out of your stay in Singapore.
Image credit: jjcb