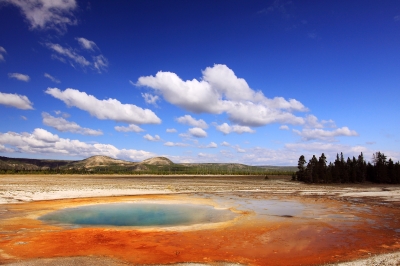 Spring is a great time for families to travel together. The weather is milder than in the summer and the crowds are usually more manageable. Consider these top five affordable vacations if you're looking to travel this spring.
Chickasaw Cultural Center
The Chickasaw Cultural Center, located in Sulphur, Okla., is a special place for people with Chickasaw heritage to celebrate, record and pass on the culture that binds them together. Whether travelers are Chickasaw descendants or not, this world-class destination is worth visiting. Guests can tour the replicated village, Spirit Forest and Council House while later enjoying a show at the amphitheater or Anoli' Theater.
Entrance fees to exhibits and films range from $3 to $6, and an exhibit/theater combo pack is available for $10 or less.
Yellowstone National Park
In 1807, a scout for Lewis and Clark named John Colter found a breathtaking area in modern-day northwest Wyoming and described its wonders to disbelieving New Englanders. However, he wasn't embellishing the marvels he found at what is now Yellowstone National Park. Stunning canyons, mud pots, Mammoth Hot Springs, Grand Prismatic Spring and the world's largest collection of geysers all await visitors in this one amazing location.
The park's entrance fees are $25 per car, $20 per motorcycle and $12 per visitor arriving on foot or by bike. Visitors may stay in a hotel nearby or camp within the park's boundaries.
Myrtle Beach State Park
Located in South Carolina, Myrtle Beach State Park was the first of its kind to open in the state in 1936. While Myrtle Beach itself is popular among visitors, the park extends inland for a quiet, serene escape from the bustling coastline. Visitors enjoy educational opportunities, nature trails, campgrounds, stunning ocean views and phenomenal surf fishing.
Admission into Myrtle Beach State Park ranges from $3 to $5. Children ages 5 years and younger are free.
Washington D.C.
History buffs should make at least one visit to Washington D.C. during their lifetime. After all, the nation's capitol is full of more historic sites and tours than possibly any other city in the country! Stop in at George Washington's home at Mount Vernon, visit the African American Civil War Memorial, wander through Arlington National Cemetery, attend a show at the historic Ford's Theatre and much more.
Entrance into many Washington D.C. sites are free, while others have a reasonable admission cost. Guests may choose to stay at a hotel, bed & breakfast, campground or extended stay location.
Arches National Park
This red-rock wonderland is located in Moab, Utah. The outstanding beauty of Arches National Park has slowly eroded over the past 300 million years into the giant monoliths visitors see today. Park guests should plan to stay for at least a few hours, spending the time enjoying scenic drives, hiking short trails, and soaking up the beauty of the desert. Overnight stays can accommodate campers, backpackers and those interested in ranger-led programs.
The vehicle entrance fee is $10 per car and the camping fee is $20 per night. Activity fees range from $5 to $10.
Clearly, there's no need to leave the country for an astounding vacation experience. Whether travelers plan to fly or drive this spring, destinations from coast to coast provide a variety of options.