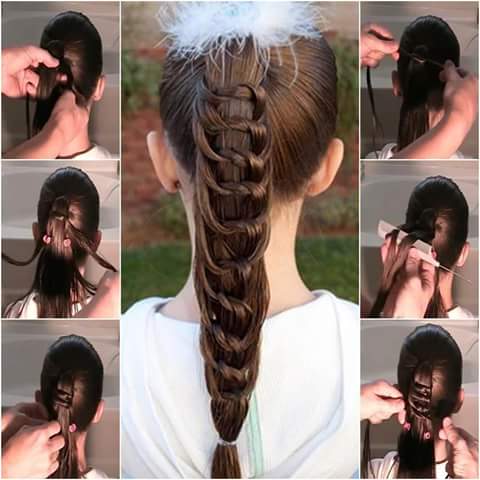 With the end of freezing winter season, you get a few months break from cozy woolen clothes, sweaters, gloves and caps. This break lets you enjoy trendy looks by emphasizing several funky hairstyles. From a cute French braid to a stylish rope and waterfall braid, you can try everything in the summer season. This is the best part of summer that you enjoy the most. But to have perfectly made braids that can make you look trendy you need to possess some professional braiding skills. Nevertheless, you need not to go for any training from makeup artists for this. As the most popular fashion network Roposo has a bunch of tutorials for you. Let's have a look at the best Roposo Posts that can help you learn to make braids for your summer bridesmaid hairstyles options.
The Snake Braid – Most Fancy Hairstyle Ever
Check out the amazing Roposo post here at http://www.roposo.com/story/lazy-girls-fancy-hairstyle-trendy-snake-braid/0640982d-6b5c-4683-a1cd-7d95453e71f1 and learn step by step procedure to make this snake braid yourself at home. This is one of the trendiest hairstyle suitable on any type of hair. Doesn't matter whether you have long hair or medium ones, you can add grace to your look with this stylish and fancy lazy girl snake braid hairstyle. As the name suggests, the hair pattern in this hairstyles copies the snakes' motion that look very pretty as a hairstyle. One thing that makes this hairstyle a must try style is its simplicity. It not at all requires any kind expertise, it will just take your 2-3 minutes to have this super cute braid.
Stylish Window Braid – A Unique Hairstyle to Go
Have you heard about this window style braid ever? If not then see video tutorial for this hairstyle at http://www.roposo.com/story/hair-tutorial/3e03fb90-3383-4039-afdd-7b7949bbd50f. This is around 5 minutes long video shared at Roposo that perfectly teaches you to make this unique window braid at home easily. In this braid style small patterns of hair from both sides of your scalp are tied in such a way that a window like shape is formed on the back side of your head just above the root of the pony tail. For making this hairstyle you just need a few clips and elastic rubbers to tie your hair in various parts. So watch this video tutorial and enjoy a stylish and trendy hairstyle effortlessly.
Dragan Tail Split Braid – A Must Try Hairstyle
Are you blessed with gorgeous long hair? Watch the video tutorial for dragon tail split braid at Roposo at http://www.roposo.com/story/hair-tutorial/d4a371d3-742d-4df6-a807-2002d3cb5152?query=STORY_braid-tutorial&num=0 and try this super gorgeous braid on your long hair. It will really make you look beautiful and stylish in this summer season. This hairstyle can look glamourous on any of the hair types. Whether you are carrying stylish printed top or beautiful evening gown this dragon tail spilt braid will suit any of your outfits as well. So try this elegant braid this summer and be a stylish diva with gorgeous hair.
Waterfall Braid – Let Your Hair Blow Confidently
Can't manage to give too much time to your hairstyle? Then this waterfall braid is the perfect hairstyle that will just take a few minutes of your styling time. Here is the complete Roposo post to learn this waterfall hairstyle thoroughly http://www.roposo.com/story/waterfall-braid-tutorial/80e23e36-291e-4830-9247-afc3772af8cb?query=STORY_braid-tutorial&num=0. The final hair pattern reflected by this braid matches the waterfall look and that's the reason behind this hairstyle name. This hairstyle fits perfect on long, medium as well as short hair. Try this amazing hairstyle and look the most stylish diva in summers.
Supercool Reverse Fishtail Braid – Classic Hairstyle to Try in Summer
Are you prone to little bit humidity induced frizz hair? Then this reverse fishtail braid is the hairstyle that will set perfect on your hair. See the complete video tutorial from Roposo at http://www.roposo.com/story/how-to-classic-reverse-fishtail-braid-hair-tutorial/7b180770-7bdc-4404-abbb-326e5097316e and complement your overall summer looks with this chic hairstyle. This is 3-4 minutes video tutorial shared by one of the fashion explorers at Roposo to inspire you with the hairstyles that you can try to enhance your looks and style your hair the best way.
Four Strand Braid – Braid in Braid Hairstyle
This 4 strand braid forms a beautiful braid in braid pattern with your hair. Watch the complete video tutorial for this hairstyle at Roposo at http://www.roposo.com/story/unique-4-strand-braid-in-braid/a64df48d-ab80-421d-9202-05cc4d1839b2?query=STORY_braid-tutorial&num=0. This whole tutorial will help you to accomplish this beautiful hairstyle by yourself. This hairstyle can look beautiful on ladies with medium to long hair. The best attraction of this hair style is the little braid enclosed inside the big braid thus forming a braid in braid hairstyle. Try this elegant hairstyle and enhance your feminine charm naturally.
Go through all these hair braid tutorials on Roposo and keep trying new hairstyles to look unique and trendy this summer season. There are numerous other hairstyle tutorials on Roposo that you can find useful for exploring trendy hairstyles. So visit Roposo and start discovering latest fashion easily.