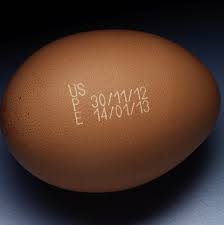 While we are all used to seeing egg carton labels, product information can also be printed directly on the shell of an egg. This process is known as egg coding. Along with the producer code, this printed information contains details of the production method, egg size, and the best-before dates. According to an online statistics portal Statista, egg consumption in the US in 2015 is approximately 265 per person. With per capita consumption of eggs at an all-time high, this might be the perfect time for you to start your egg coding business. One of the first things you need is a constant support from leading printer technologies such as Videojet, Foxjet, Domino, and so on. Furthermore, it is essential to be ready with necessary accessories such as Domino or Videojet replacements inks in order to meet every printing demand on time.
However, there are a few things to understand before you start with the egg coding process. Traceability and marketing information on eggshells can be printed in two ways – laser coding and Continuous Ink Jet (CIJ) coding. There has been a long ongoing debate on the effectiveness of one process over the other. In this post, let us try to find out the most suitable technology.
Cost Effectiveness
Laser printing on eggshells has a hefty upfront cost when it comes to the marking machine as well as the ventilation system used to remove the fumes generated during the process. Moreover, maintenance costs are also high because of the machine's overheating issues. On the other hand, CIJ printers are more cost-effective, with low investment and maintenance costs.
Better Readability
Both CIJ and laser printers have an incredible printing precision on eggshells, going up to 12 characters every line. However, readability starts varying when compared between white and brown eggshells. When it comes to white egg surfaces, CIJ printing is more legible with its red food grade ink. However, the red ink of CIJ prints on brown surfaces hardly enhances readability. The engraving style of laser printers is highly effective on brown eggshells due to an increased contrast. However, things fall flat when it comes to laser printing on white eggshells.
Printing Impact
Since the print will be directly applied on the surface of the egg, it is important to weigh the impact of each process. Laser printing darkens white eggs and bleaches brown eggs, as it uses the process of ablation in order to engrave the top layer. CIJ printing, however, is a lot friendlier to the egg because the process revolves around dropping ink on the surface and drying it quickly.
Printing Quality
While CIJ printers draw ink at a lower resolution, laser printers engrave continuous segments of text. This makes laser printers have an improved overall print quality. If the eggs move past the printer at a fast pace, it is difficult for any device to print successfully. However, if the eggs are not moving, laser printers are better at coding than their CIJ counterparts.
Printing Durability
Although laser printers have the best code durability as the information is literally engraved onto the surface of the eggs, the ink quality of CIJ printers makes it a more dependable option. Permanent food grade ink used in these printers can easily live through rough handling during the production and distribution process. The code permanence of this ink is so strong that it can also sustain cooking in boiling water.
Both CIJ and laser printing options have credible benefits over one another. As a result, choosing the most suitable egg coding solution completely depends on your overall requirements. However, remember that as you will be required to code on billions of eggs every year. Make sure that you have extra accessories such as Videojet replacement inks or spare sprockets. Stay prepared to avoid unnecessary downtime.