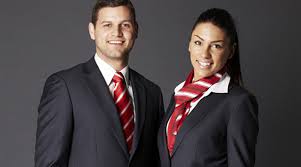 When you step into your office it is important that you project the right image and an important part of your image is your apparel or uniform. There are many companies that offer a wide range of corporate uniforms for both men and women.
Why it is Important for your Business?
Here are some reasons why a business owner would want to ensure that his / her employees wear corporate clothing.
Cooperate wear gives an "I mean business" look to your office.
Be it the employees or the owner a uniform would add that extra bit of smartness to your enterprise.
It will give you that extra edge and will project to your customers that you are serious about your work.
Uniforms would also give a sense of belonging or oneness to your employees increasing their team efficiency.
If you own a business where the uniforms for your employees can sport logos then this can act as free advertising for your business.
If a dress code is an issue for you it would ensure that all your employees are dressed appropriately.
While working in retail setting it is important for staff to be easily identifiable and in case a customer needs assistance then a uniform would then come in handy.
Why is it Important for an Employee?
As an employee you would be able to reflect that you are there for work and therefore reflect a sense of competence that in today's world when looks do matter is hard to miss.
Also, in certain environments such as a clinic or an industry the uniform acts also as protective wear.
Tips to Select the Appropriate Uniform:
It is important to select the appropriate uniform as you spent a considerable part of your day at work and therefore in your uniform, certain things which you should keep in mind while selecting the appropriate uniform are:
Comfort: the most important thing to make sure is that the uniform should be comfortable as it is worn for a long time and uncomfortable uniforms can hamper your efficiency.
Durable: in case you are an employer or an employee the durability of the uniform indirectly affects the cost as the uniform will be worn more frequently than your other clothing and therefore should be durable.
Easy to maintain: the uniforms should be easy to laundry and easy to maintain with minimum hassle.
Select a uniform that is appropriate for your job: it is important to select a uniform that suits your job, for example scrubs for doctors and nurses while jump suits for gardeners and plumbers.
Select a suitable color: select a uniform color that is in synch with either your business or your company logo this could help your employees stand out.
When the competition is so cut throat the way you dress could give you that special edge, select from the wide range of products being offered by total image group can help you make the right choice.