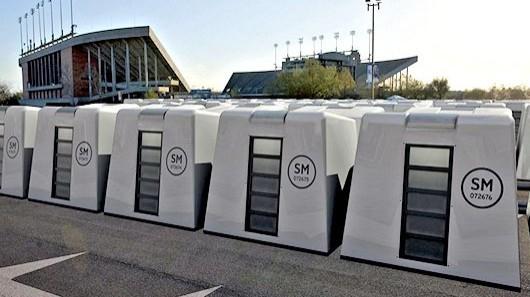 Dome shelters are quite versatile.  They have a wide variety of uses, and come in numerous sizes.  They can be used for various businesses.  Construction companies can use these sturdy shelters for maintenance of vehicles, vehicle washing bays, and vehicle storage.  They can be used as assembly areas or a location for deliveries. This would also be a good place for on-site business meetings.  Farming establishments can benefit from the use of container shelters for housing animals, feed and hay storage, and vehicle storage.  For any type of business, a dome shelter would be great for warehousing products.Businesses can use these shelters as covers for work areas, or for work equipment.
Acontainer shelter is large enough to park construction vehicles under it.  They're great for protecting materials such as lumber or gardening dirt, because they offer year-round protection against the elements.  When you use one of these shelters, you're creating a domed top; which gives you a high ceiling in which to work under, or store tall items and machinery.  They're great for bulk storage.If you use the dome shelter as a work station for outside employees, you'll be offering them some great benefits.   The dome's cover is made with a UV-stabilized polyethylene. The shelter is made of special materials that don't absorb as much heat as steel structures would do, and it offers great protection from harmful UV rays and sun.  The dome keeps it cooler for employees.
A dome shelter is great during the winter months, as it keeps the cold elements off both people and equipment.  The dome itself is made of dirt repellent material, so your job site will always have a neat, professional look to it.  The shelter is also water proof.  The container shelters have the option of three varieties of end walls to add even more protection to your staff and equipment.  The dome shelter's end walls come in a partial-end wall, a full-end wall, or a zip-up wall.  All three of these are made of heavy-duty, durable materials to add extra safety and protection for your employees and equipment.The UV-stabilized polyethylene material that the dome is made of is tear resistant.  If the fabric were to be cut, you would't need to worry about it spreading.
The material is designed to resist spreading or stretching.  The frame of a dome shelter is super durable.  It's made with steel tubing that is galvanized inside and out. The strength of both the frame and the cover assure you protection against severe weather and winds. Dome shelters easily attach to freight containers, allowing you to get your outside projects started quickly and efficiently.  The sizes range in length to accommodate different sized containers.  You can then decide what width you need, and what height.  All in all, a dome shelter is a great investment that's extremely durable and cost effective for any type of business.