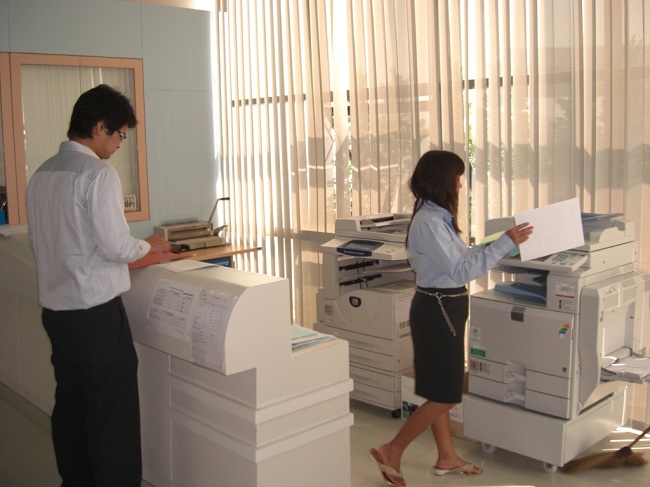 Thinking about getting new copier for your office? Maybe you've already settled on a specific model and the features that you'll want it to have. Now the biggest question is – should you buy or rent? Here are the pros and cons of each option to help you decide on the right one for you.
Buying A Copier: Pros and Cons
According to Artonery (http://www.artonery.com/blog/2014/11/27/buying-copier-a-new-or-used-one/), copier prices vary from $5,000 to $50,000 depending on the speed and model. This is clearly not a small investment, especially if you have a new business with limited capital However, if you have a high photocopying demand and can afford the huge upfront cost, then buying is the way to go. Here are the pros and cons of this option.
Pros
a) Total Control Over the Equipment
Buying a new copier means you have full control over the machine. If it breaks down, you simply make a call to the repair company of your choice, and within a few hours, you'll be back in business. No following procedures from the renting company, or waiting for their technician to show up.
b) Cheaper In The Long Run
Buying a new copier is also less expensive in the long term than renting. You'll be able to save a significant amount of money over the whole life cycle of the copier from tax breaks.
c) Less Paper Work
The process of purchasing a copier is very straightforward. You just need to identify the machine you need from an online or offline retailer, pay the cash, and the deal is done.
d) Technologically Up to Date
New photocopiers come with all the latest software, features and other technological updates, which make them faster and more reliable than older models.
Cons
a) High Upfront Cost
New photocopiers require a large amount of investment upfront, which small businesses may not afford, especially, if they need more than one machine.
b) Depreciation
Copiers significantly lose their value after only a few years of use. Because of this, you might not be able to make much profit, if you decide to resell your expensive high-end machine.
c) Upgrading is Your Sole Responsibility
Technology changes really fast. In three or five years from now, your high-tech, expensive copier may be out of date. That means you'll have to replace it, or live with the obsolete one.
d) High Cost Of Supplies
Buying a copier comes with taking full responsibility of its operations and maintenance. That includes buying extra supplies like paper, ink, and toner, which can be very expensive throughout the life of the machine.
Renting A Copier: Pros and Cons
Renting is the best solution for you if you need a copier for short-term use. Rentals are done monthly, and the cost varies depending on the machine you're renting.
Pros
a) Preserves Company Capital
If you have a new business, renting a copier is a great option to keep your cash flowing. It allows you to use a sophisticated copier, while investing your limited capital on more important things.
b) Cheaper Maintenance
Though you need to pay a monthly fee to rent a copier, maintenance, parts and supplies are included in the cost. In case of a breakdown, you only need to call your supplier. Most of the times, a technician will come and fix the problem within a few hours.
c) Freedom To Upgrade
When your machine becomes outdated, some rental companies allow you to exchange it with a newer model that has a better technology. This allows you to enjoy the latest technology without the expense of buying a new copier.
d) Flexible Terms
As long as you give a 30-day notice beforehand, you can cancel your rental agreement if you feel you no longer need the machine.
Cons
a) Higher Long-term Costs
A copier that's worth $5,000 can end up costing you $8,000 or more, if you spread the payments over a long period of time, say 5 years. Therefore, only rent if you're 100% sure you only need the machine for a short period.
After knowing the pros and cons of buying and renting a new copier, you should be able to make a conscious decision based on your own analysis, funds and specific needs.