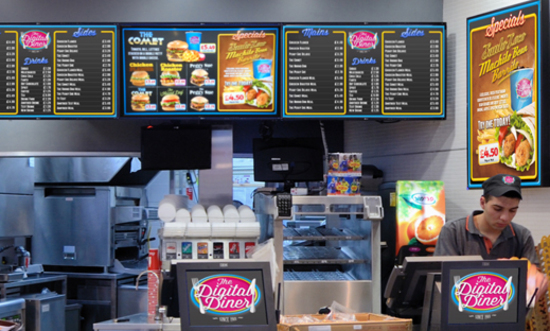 If your restaurant is not yet going green, then you are being left behind. People are nowadays bonding easier with businesses that can quickly appreciate the need for going green; this means reducing the use of paper and employing technology to replace it. This is true for restaurants too.
DoPlublicity.com has introduced technologically advanced digital menu boards for restaurants that are quickly replacing the use of printed paper menus. This is not only a step towards going green for your restaurant, but it is also the first step towards an easier-to-manage chain of restaurants for you.
Simply put, these digital signage menu boards from doPublicity not only aim at helping you get rid of paper use in your restaurant. The design of these boards is such that it makes your restaurant business easy to run and more profitable, all while using the least amount of input and human resource. Below are some of the reasons why these digital signage help improve your services and boost your productivity and bottom line.
Why Switch to Digital Menu Boards
Attractive Displays
People are visual. If you use visually appealing tools within your restaurant, they will subconsciously be attracted to it. Sometimes, some people will find themselves eating at your restaurant, not because they had planned it but because the digital menus appealed to their eyes thus attracting them.
More Productivity
Patrons in your restaurant will not spend a lot of time trying to memorize product prices. They also do not have to keep recalling the special offers you are running. All they have to do is take a quick glance at the menu displays within the restaurant premises and they will be in the know. The best thing about this is that even the customers do not have to ask for the prices; they can already see them displayed. This makes the running of the restaurant easier, saving on time and training resources, hence more productivity.
More Income Streams
Did you know that besides marketing your own products on these displays, you could also market other businesses' products? Look at it this way; people who come to eat in your restaurant take some time there. They also come from all walks of life. Your neighboring businesses would be greatly interested in telling them about their products and services. So, they would be willing to pay you to advertise their products on your digital signage menu boards.
At the same time, companies whose products you sell together with your services, like the soft drink companies, wine companies and so on, would also be happy to increase their in-house consumption of their products compared to that of their competition. So, they will most likely approach you to run ads on your digital boards to enhance this. How is that for some extra bucks!
Simply put, digital menu boards for restaurant is the way to go if you want to revolutionize your restaurant business and make more profits. Talk to the dopublicity.com team for details and purchase of this out-of-this-world technology.