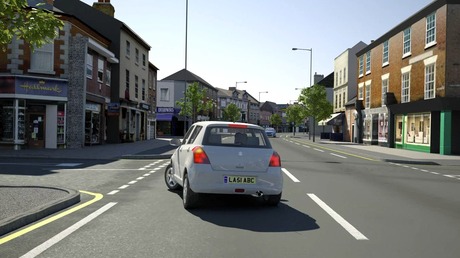 All those, who are learning to drive have to pass the theory test to qualify for a practical driving test. One of the sections of this theory test is a hazard test. A good knowledge of it would help one pass this test with good marks.
What is Hazard perception?
Hazard perception test forms the 2nd part of the driving theory test in the UK. This is a mandatory test that all UK learner drivers have to pass to get a valid "full driving license." A driving theory test comprises of multiple-choice questionnaire and a hazard perception test.
What is asked in a hazard perception test?
Learners will have to watch a video clipping of one-minute duration. There is a total of fourteen such clippings. These clips are "computer generated imagery" or CGI clips. They are designed from the viewpoint of a car driver. This hazard perception part is delivered by a candidate by clicking on the screen of the computer via mouse.
Students will get points between zero to five depending on the answer and the time they take to answer it. If the examinee gets very late to react, then he is assigned zero. If he takes the least time to answer and his answer is correct, then he is awarded maximum points, i.e., 5.
For candidates appearing for car and motorcycle license, there are fifteen scoreable hazards. There are five points assigned on each hazard. Candidates applying for a driving license for bus and lorry would have to answer nineteen video clips with 20 scoreable hazards.
What are the sources to prepare for a hazard test?
To prepare for this test, there are several books that will provide you ample case scenarios to understand different types of potential driving hazards and how to respond to them. There are several online websites that provide not only learning material, but also the facility to take mock tests. This is one of the best ways to practice for this test.
Is there any difference between the new and old hazard perception CGI clipping?
The new CGI clips appear clearer than the old ones. Only the change is present in the clips, the test format is same as earlier. With better image quality, it becomes easy for a candidate to spot the development of hazard quickly. This reduces the time they take to respond to the clip and hence impacts their score too.
Tips to secure good score in perception test
Do a lot of preparation for the practice test
Get knowledge about a 'developing hazard' and ways to identify it
Always remember that you have to identify two hazards in each video clip
Don't get late in responding to a hazard. Do it as soon as you identify a hazard to develop
Restrict yourself from overdoing the clicking as this can go against you
Conclusion
Passing a perception test opens up the door to go one step higher and appear for the last but not the least driving practical test. So, prepare well and increase your chances of getting a full driving license at the earliest.