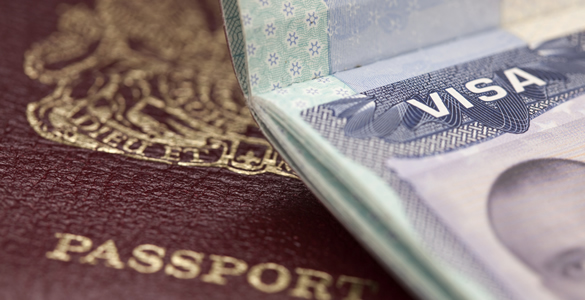 Anyone that is married to a British citizen or to a person who is classed as being settled in the UK is able to apply for entrance clearance as their spouse. There are a number of rules and regulations regarding the criteria for entry, which include:
Meeting the criteria outlined in the rules of immigration
Having a genuine and ongoing relationship as the spouse of a UK citizen or someone who is settled in the UK
Adequate accommodation for the couple to live in the UK without the need to obtain public funds
A financial requirement on the UK spouse of a minimum of £18,600 gross earnings a year or savings of £62,500
An ability to understand English at CEFR Level A1 as determined by UK Immigration
If the couple have dependents, there is a further level of financial requirement above the £18,600 minimum level. For the first non EEA child that the couple is responsible for, there is a need for an additional £3,800 to be added to the figure. For each additional non EEA child, there is a need for an additional £2,400 to be added to the figure.
Pay attention to the financial requirements
This additional sum can be achieved alone or it can be achieved alongside savings of at least £16,000 and additional savings which amount to 2.5 times the difference between the total amount required and the gross annual income amount.
When looking to calculate the financial requirements, the following sources will be considered:
The income from the UK settled partner or self-employment
Pension income of the applicant and partner
When determining whether the financial requirement is met only the following sources will be taken into account:
Maternity or bereavement benefit which is received by the UK partner
Any other income of the applicant and their partner
Savings of the applicant and partner
There are exemptions for meeting the financial requirements and if the partner receives at least one of the following, the minimum level will be set aside:
Disability living allowance
Sever disablement allowance
Industrial injury disablement benefit
When there is an exemption with respect to finances, there is a need to show that the couple can maintain and accommodate themselves without having to rely on the public purse.
With respect to the house being adequate, the couple must be able to show that it will not be overcrowded and that the home will not contravene any public health regulations. With respect to English language requirements, the applicant must be able to show that they are a national of a majority English speaking nation, that they are exempt, that there are exceptional circumstances or that they have certification which states they have passed an English language test.
The minimum requirement is the Level A1 provided by the Common European Framework of Reference, the CEFR, or an academic qualification which is recognised by NARIC UK to the standard of a Bachelor or Master or PhD in the UK and that the course was taught in English.
Appeals can be lodged if an application is refused
If an application is denied or refused by the Entry Clearance Officer, it is possible to lodge an entry clearance appeal. This should be lodged with the First tier Tribunal and this must be carried out within 28 days of the applicant receiving the refusal letter.
There is no doubt that applying for a visa in the United Kingdom is a very difficult situation. If someone is apart from their partner and loved ones, it can be a very trying and emotional time, which only makes the process harder. This is why there is a need to call on expert support and when it comes to immigration, there is a need to call on specialist solicitors who have immigration experience.
As you would expect, there are many different types of immigration law and while dealing with a solicitor who has expertise in immigration law is better than dealing with a lawyer than no experience in this area of the law, it is best to call on the services of a skilled and relevant solicitor. This is why relying on an experienced immigration solicitor with respect to UK marriage visa applications is of benefit, and if you need assistance in making your family whole again, this is the sort of solicitor you should turn to.
Andrew Reilly is a freelance writer with a focus on news stories and consumer interest articles. He has been writing professionally for 9 years but has been writing for as long as he can care to remember. When Andrew isn't sat behind a laptop or researching a story, he will be found watching a gig or a game of football.