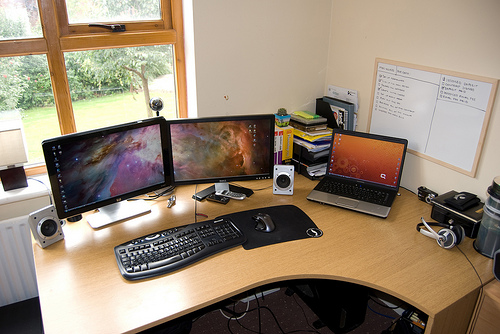 If you spend most of your time in a day in front of a computer then you need a proper environment. There are a lots of modern design computer tables and chairs that can make you comfortable when you are sitting in front of a computer. Finding the best computer desk is not that hard but there are few things that you should consider before making a purchase. Things like the perfect height and how many draws are included in the table. Let's take a look on the things that you need to consider when you are looking for a computer desk.
Perfect Height
It should be at comfortable height where you don't feel a fatigue. When you are purchasing a computer desk then make sure that the table is at the height where you don't have bow down to it. Make sure that you can place your hands on the table and take lay back on the chair when you are using computer. These things matter a lot and if you are considering them then you are making a big mistake. If the desk is not at the perfect height then soon you will feel the back pain and you will have to replace it and your productivity will go down too. Finding the computer desk at perfect height should be the first priority when you are looking for the perfect computer desk.
What Purpose you need it for?
Well, it depends. If you are a gaming freak then you need a table where you can place all the necessary things that you want on your desk. If you want to place the giant speakers inside your desk then you want a perfect desk where you can place those speakers and you also need a lot of other things too. If you are looking for a standard computer desk then it means you will use it for work purpose and you will write a lot so you need a simple design with comfortable height and width.
Customization
Few people prefer the customized computer desk and they usually buy it on order and make it perfect according to their needs. If you are a person who love to customize your things with your own style then customizing the computer desk is the best way for you. You can add almost anything to it when you are going for customization.