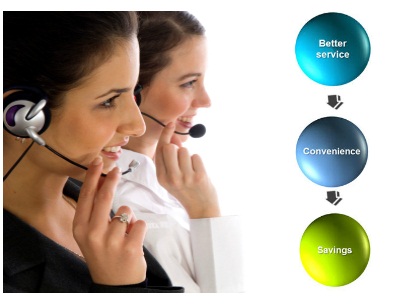 The main objective of any outsourcing call centre is to increase their selling rate without having to increase their budget for marketing. On the other hand, customers are in search of such companies that gives the maximum sales with minimum expenditure. This contradiction of opinion is making call centres to increase their average order size. In order to deal with these situations, organisations are cultivating various strategies to bring in new customers while keeping the existing ones happy and satisfied.
There were two traditional methods called upselling and cross-selling techniques to increase the sales of products and services. 'Cross-selling' can be defined as a method of attracting the customer with a complimentary item in addition to the item which the customer is already interested in, whereas 'upselling' can be defined as the practice of offering an upgraded version of a particular product. But, both these selling strategies tend to annoy customers with repetitive calling. Therefore here are some of the effective strategies to increase upselling and cross-selling:
Timing and Context are Extremely Important:
Relevant context and its timing to deliver that context are extremely important to increase sales for any outsourcing call centre. Your timing to understand when to skip or when to delay should be accurate in order to upsell your market.
The customer's immediate needs should always be given the highest priority. Firstly, resolve a customer's query and then offer them with the products at the end of the conversation.
Ultimate Aim Should be to Provide Maximum Value:
An entrepreneur or a business person should always look up to the bigger picture in order to maintain a healthy relationship with their clients. For continuing a long-term relationship and increasing sales and market demands, the main aim of any business organisation should be to provide maximum value of their products.
Customers usually look for products that provide the best value for their money. Therefore, it becomes highly essential that for cross-selling or up-selling to be successful the value of the sale must be demonstrated to the customer. It must be made clear to the customer that a product's value cannot be judged by its sticker price but by its reliability, wear and tear, and most importantly, depreciation.
Stay Restraint and Relevant:
Never give an inappropriate opinion in order to get your products or services bought. The main drawback of upselling is that the agents try to recommend products according to their profit. The product or the services might lose its credibility. This will only distract the customer from purchasing their item of interest. Therefore, it is advisable to keep the recommendations as little as possible and try to be relevant while selling your products.
Entice Loyal Customers with Exclusive Offers:
This is one of the most effective methods of up-selling items to your customers. It is true that most of the customers are initially attracted towards the exclusive offers and gift vouchers. Enticing your friends, family, relatives and loyal customers with special offers may aid in enhancing your sales. This not only helps keep your current customer base happy, it also has the potential to bring in new customers as your current customers may refer you to their friends or family.
Listen and Respond to the Customer Appropriately:
Not always does the written script helps in winning your customer's loyalty. Here you need to have out of the box ideas in order to know your customers' point of interest and upsell your services. You need to actively listen and keenly observe a customer, to understand and upsell your product at that particular moment.
Offer Effective Discounts:
Try to provide a higher margin of discounts to your targeted customers. Giving huge discounts while selling your products is the tactics to increase sales. Bundled discounts on complimentary items are usually more effective when they are explained with the various benefits and uses of the products.
An outsourcing call centre usually emphasise on providing customers with a higher cost margin than their competitors. Your main goal is to offer huge marginal discounts over the services if the user seems genuinely interested towards the services.
Conclusion:
The above-described strategies are some of the most beneficial methods to upsell or cross-sell your products and services. These strategies play a vital role for organisations which are mainly into outsourcing businesses. As these outsourcing companies continuously require a huge number of customer and competitors attracted towards their businesses. Therefore, sales and services need to be integrated. This is where the art of up-selling and cross-selling comes into play at the contact centre.