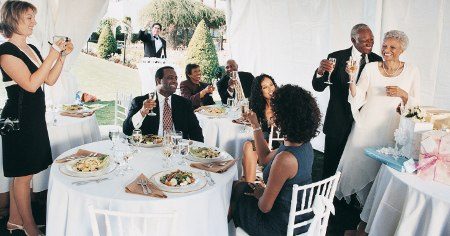 You just owe them so much and it's not even possible to count everything! These people who brought you to this beautiful world, raised you with love and full devotion. Now finally they are on the verge of a very special wedding anniversary-be it 25th, 50th or even more. It's your utmost responsibility to make this day really special and you  really want to put a personal touch to this occasion. Now you might be feeling wondering to know what are the things that you need to focus on and how to make it a unique one filled with love and affection.
Now this article gives you all the effective tips to make the anniversary occasion of your parent very special-

Set a budget:
Before doing anything to take the proper preparation for the party, it is really important to determine how much you can afford. If you have a sibling, conduct a meeting and discuss the complete plan with your sibling and figure out exactly how much each of you can afford. It is not necessary that each of you have to spend exact amount of money but everyone should feel that he or she is an important part of the event.
If you do not have any sibling, you should decide for yourself. Decide how much you are really willing to spend. Make a realistic budget and make sure the budget is not putting you into any kind of unwanted stress.
Select a proper venue for the party:
Once you are done with finalizing the budget, it is really important to determine the location of the party. First you need to decide the number of people you would like to include. If you do not have enough budget but you have a large number of guests, it would be a smart decision to make the party arrangement at your home or garden. A lot of restaurants have banquet facilities or private rooms and they even allow you to use without charging any additional cost. If someone of your family member or relatives has a membership of a private club, you might be able to throw the party there. No matter where you are going to arrange the party, don't forget to include the famous anniversary cake.
Let's make the list of guests and invitation :
If you want to make complete surprise party for your parent, arranging the proper guest invitee for the could be a challenging job. If it's a conventional marriage anniversary for your parent where they are aware of it, making the guest list won't be a big problem.
It is really important to invite your guests in a proper manner and make sure the invitation card comes with the personalized messages that can touch the heart of your guests.
Now you might have got to know about the crucial tips on making the anniversary party for your parent ever memorable.