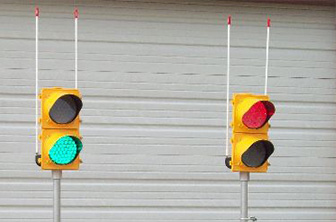 When your project needs emergency hourly, daily, or long-term traffic control, you can purchase or rent the portable traffic lights that are required and are available in several sizes with options.
They are the ideal answer to one-lane work zones, special events, bridge and other repairs, and many other occasions. It is important to receive fast and easy access to the most reliable, state-of-the-art, technologically advanced, innovative, and cost-effective traffic control devices from the industry's best manufacturers.
New Technology
(1) It is a fully automated system.
(2) The equipment is solar-powered, so no diesel fuel is required.
(3) If the signal breaks, there is an automatic paging system.
(4) A link communication exists between the two units.
(5) Add-on components enable meeting specific project requirements. For example, MUTCD- compliant turn arrows can be added for the safe flow of traffic through intersections.
Wireless Interface
The Signal System can be operated wirelessly by a street-corner controller and can be connected to the controller within 30 minutes.
Remote Monitoring System 
An authorized user can monitor the Signal's location, operating hours, battery voltage, and system default from a source that is internet-enabled. It will also send alerts via email or text message when the battery voltage is low, if a signal is moved, or the system defaults.
Pre-emption System
This pre-empts the normal operation of traffic signals to provide green indication in the travel direction of emergency vehicles, reducing the response time of emergency personnel and increasing safety.
Pedestrian Signal System
The usual illuminated symbols of a walking person for "walk" and an upraised hand for "don't walk" can be integrated into a Trailer-Mounted Signal or can be on a stand-alone cart.
Work Zone Flood Light
This increases safety in a work zone by illuminating the traffic signal trailer and stop bar areas during any low visibility situations. It operates on 12 volts of direct-current power. .
Flagger/Pilot Car Module
This allows a flagger or the driver of a pilot car to remotely operate the System with the use of a hand-held transmitter, which increases safety for both the motorist and the worker.
For More Information
Street Smart Rental offers these portable traffic control systems and components. It also has in-house engineers, an excellent repair facility with certified repair technicians, and an extremely experienced sales staff. All will assure you that they will be there to support the system in every possible way.