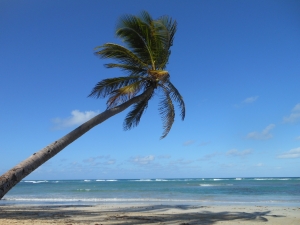 If you dream of your next vacation taking place in the Caribbean, it is not quite that simple. The ''Caribbean'' actually comprises a large number of islands; while they all accomplish the goal of getting to a warm location with a beach, there are many differences among them. Depending on what you want most out of the trip, some destinations are certainly better than others. There is no ''best'' island as each has its own unique flavor and offerings. Here are some tips for picking the right island for your dream getaway.
Beautiful Beaches
Most Caribbean islands have at least a few beautiful beaches and no matter which one you pick, you will get to lie out on the sand and swim in the ocean. To find the best location for you, you may want to do more homework. But, if you are not interested in that and you simply want to hit the spots with the best beaches, the islands most known for the beauty of their beaches is Grand Cayman, Anguilla, Turks and Caicos, Grenada, Aruba and the U.S. Virgin Islands— St. John, St. Croix and St. Thomas.
Fine Dining
No matter where you are in the Caribbean, you will have at least a few upscale dining options at your disposal. But, certain islands are particularly known for their fine food selection, and if this is ultra important to you, these might be considered front-runners—Anguilla, Barbados and St. Barthelemy.  St. Martin also has some good options, with the best being found in Grand Case. One place you may want to avoid is Dominican Republic—all-inclusive resorts are primarily the name of the game here, and there are not many stand alone upscale dining options with the exception of a few in Santo Domingo and other areas.
For the Party Animals
If nightlife is your thing, certain islands will have a lot more to offer you once the sun goes down. St. Martin, Aruba and Puerto Rico are some of the best—they are also well-known for a good selection of casinos if gambling is your thing. Jamaica has no casinos, but has a good party scene after dark, particularly in Montego Bay and Negril. Trinidad, Dominican Republic and Grand Cayman are also good choices.
Snorkeling and Diving
If you want to find Caribbean vacations where you can explore what's under the water, there are some spots that are certainly better than others for diving and snorkeling. Bonaire is not only the best spot in the Caribbean; it is considered one of the best dive spots in the whole world. Other top contenders include Saba, St. Lucia, Turks and Caicos and the Cayman Islands. If scouting out wrecks is your thing, the British Virgin Islands are a top spot.
Golfing
If you love the idea of golfing under palm trees while gazing out over the ocean, the Caribbean is the place for you; it has some of the best resort courses in the world, actually. The Barbados has some great ones, but it is one of the pricier options. Jamaica and the Dominican Republic also have numerous quality courses and their inclusive resorts are some of the best value in the Caribbean. Puerto Rico also has some good courses, but plenty of bad ones too, so do your due diligence.
About the Author: Kelli Cooper is a freelance writer who enjoys blogging about all things travel.
Photo Credit