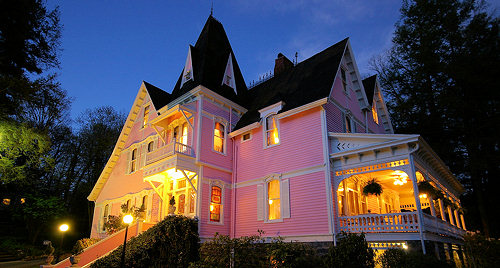 For the art connoisseurs, music lovers and culture enthusiasts, Asheville is not new to the ear. It's culturally vibrant heartbeat has attracted the pilgrimage not only of artists, but also historians, architects and people who search for the perfect getaway. The city has received accolades for its homey environment that both residents and tourists love.
Recently, Asheville has been rising in popularity because block buster movie, "The Hunger Games", was shot there. The success of the movie has allured most of its die-hard fans to pay homage to Asheville and trace the steps of Katniss Everdeen and Peeta Mellark. Thanks to the movie, more and more people are discovering the beauty of this effervescent city in North Carolina. A Hunger Games fan or not, if you plan on visiting Asheville, here are some great places to stay.
1.     Abbington Green Bed & Breakfast Inn


Among 50 other B&Bs, I'd say the Abbington Green B&B Inn is the best place to stay in Asheville. It has so much history in it. The interiors are reminiscent of British-style cottages, and outside you will find an award winning English garden. In simple words, it is a haven. The world class hospitality of staff and the authentic serenity of this B&B has earned the Abbington Green B&B Inn several awards. Any visitor who has been tiredly soaked in the urban city-life can definitely feel a sense of cleansing and renewing in this place.
2.     Hotel Indigo


The Hotel Indigo is where the stars of the Hunger Games stayed during filming. Do I hear screams from the fans? Yes dears, Jennifer Lawrence and Josh Hutcherson walked these walls. But that's not the only reason why we're recommending it. Much thought has been given in the design alone. The hotel brings inside the entire spirit of Asheville – the blend of nature and urban elements. The rooms are super cozy. You'd almost feel rested just looking at it. The beautiful collection of artworks displays the creativity of the local arts industry. And an added bonus, it is only walking distance to the restaurants, art studios and galleries of Downtown Asheville.
3.     Haywood Park Hotel


If you want to be right smack in the middle of all tourist spots, Haywood Park Hotel is your winner. Over a hundred shops and some of the best restaurants are just walking distance from the hotel. The Grove Arcade, Orange Peel, The River Arts District, and Biltmore Estate are all just a couple of blocks from the hotel. It is a great place for a romantic getaway. The rooms have more than enough elbow room and you have all the amenities you'll need – wifi, flat TVs, a fitness facility, saunas, you are even welcomed with a bottle of champagne. Let's toast to a great Asheville experience!
4.     Biltmore Estate Inn


Did you know that Asheville is home to America's largest private home? The Biltmore Estate, owned by the Vanderbilts, was originally 125,000 acres, but at present it is only 8,000. A mere walk from the Biltmore House is the Biltmore Estate Inn – a four diamond hotel that is the epitome of elegance and class. Just architectural and interior design of the hotel is enough to make you feel like royalty. There is no nook or cranny that wasn't built without class. The view of the Blue Ridge Mountains is breath taking. There are so many ways you can enjoy the classy ambience of this place, but I'll leave that for you to find out.
5.     Cedar Crest Inn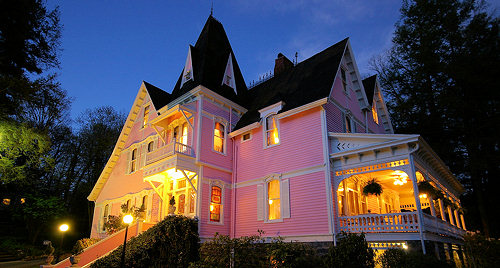 Don't be fooled by its pink façade, there is nothing Barbie about this place. Its interior design has a back-in-time, wood feel and B&B has never been so intimate. There are raving reviews of Cedar Crest Inn, and it has been voted as the most romantic B&B in Asheville by TripAdvisor. It is an elegant place that most people even refer to as the "pink mansion". If you want a romantic experience of Asheville, prepare to be serenaded by the Cedar Crest Inn's lovely ambience.
To the old and new, classy and modern, Asheville is the complete experience. As a thriving tourist destination, it is almost impossible to go wrong in choosing your accommodation, but there are places that stand a tower taller than others.