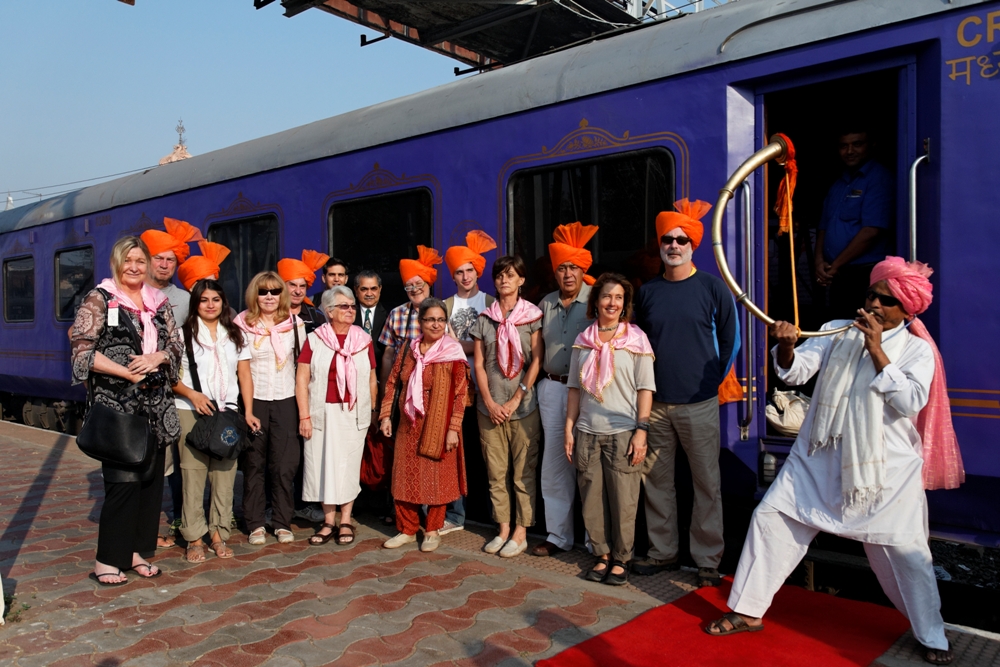 The word 'Deccan'  is a version of the pali word dakkhin and is directly derived from the sanskrit word daksin meaning South. Odyssey means a long and exciting epic journey. The two words put together -'Deccan Odyssey' would mean a long and captivating journey of the South. India's very own "Blue Limousine rolling on Wheels" –The Deccan Odyssey train flaunts the country's royalty and take us to the bygone era of primacy and romance with its magical destinations.
Luxury embodied
Exhibiting its Midas Touch the train is a perfect blend of royal opulence and modern facilities for ensuring a comfortable journey and setting a benchmark in service and class. It offers 21 coaches out of which 13 are for passengers, each named after different historical sites and monuments of Maharashtra.Along with these are Deluxe cabins, Twin bed cabins, Triple bed cabins etc with all with the modern requisites like running hot and cold water, intercom, ac , music player,personal attendants,restaurant, conference hall, bar , lounge and many more.
The Oddessy
The recent addition in the famous packages of the Deccan Oddessy are Spiritual Sahyadri, Soul Quest, Indian Odyssey, Maharashtra Splendor, Maharashtra will trail, Hidden Treasures of Gujrat, Golden Treasures, Jewels of the Deccan etc.
 Let's try to get a glimpse of the epic journey talked about.
1. Maharashtra Splendour
A 7days/8 night journey starts from Mumbai electrifies the atmosphere with the glamour of modern days,and a sip of finest quality wine of Nasik, taking  you to the religious serenity of Kolhapur , allows your senses to calm down amidst the natural retreat if Ratnagiri , ends the Maharashtra Splendor journey with the fun and frolic of Goa.
Indian Odyssey
Gazing at the architectural gems of Delhi and then visiting the land of royal Bengal tigers, Sawai Madhopur, losing yourself in the beauty of Agra, peeking through the jharokhas of Hawa Mahal of Udaipur,enjoying the sunset over lake Pichola , the ancient shrines of Vadodara, the Mughal architecture of Aurangabad and the blended culture of the Ellora ,the trip enthralls your soul.
3. Jewels of the Deccan
The Gol Gumbaz  and Chand Bawdi of the medieval Bijapur,  Aihole and Pattadakkal group of temples with Dravidian style, the brilliant construction of the classical Hampi, Hyderabad offers you a Nizam style on this trip. To add are the Mughal architecture of Aurangabad and the sculptures of Ellora.
4. Maharashtra wild trail
As the name suggests the main focus of the journey is the wild dense forests of Pench and Tadoba. Ajanta Ellora caves and the wine capital Nasik are there as additional treat to visual and olfactory senses.
5. Indian Sojourn
This trip takes you to The pre-mughal city of Vadodara , serene lakes of Udaipur, the exquisite palaces of  Rajasthan,  camel rides of Jodhpur, the sublime Taj, ferocious tiger of Ranthambore National park and the puppet show of Jaipur.
So, pack your bags and get ready to explore your senses!