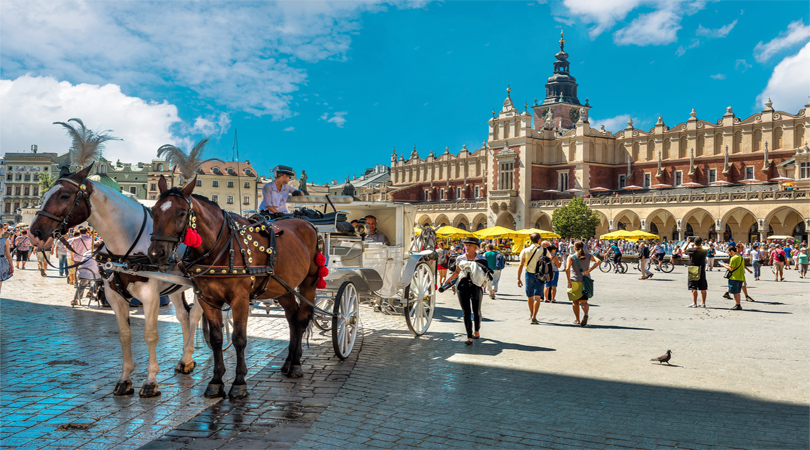 While tracing the footsteps of John Paul II, you'll be surrounded by the picturesque beauty of Wadowice's main square. Just next to the basilica, you'll find the building where he came into the world. He spends his youth in Wadowice and it was here that he was baptized, took his First Communion and was confirmed. This was also where he lost his mother at the tender age of nine as well as his older brother Edmund. He was an altar boy, went to the local middle school, played football with friends and lived a normal life. Young Karol moved to Krakow with his father in 1938 after beginning his studies at the Jagiellonian University.
Read more about: Krakow Guide – An Unexpected Southern Atmosphere.
The Family Home of the Future Pope
Sightseeing in Wadowice usually starts with a visit to the Wojtyla family home. Today, the building houses the Museum of the Wojtyla Family in Wadowice. The exhibit allows the imagination to recreate the home and its environs during the times of the young Pope. The display includes people who played a role in Karol's life and shaped him as a person. A separate part of the exhibit is dedicated to the Jewish population of Wadowice, among whom Karol had many friends. The entire Museum takes visitors back in time with its collection of items and period decoration.
There are also many items giving an insight into his personal life and his time spent in Krakow. Also, there is a display of related to the Pope's writings and reflections on forgiveness after the attempt on his life in 1981.
Pilgrims will be moved by the collection of images of the Virgin Mary from around the world as part of the "Totustuus" exhibit documenting the Pope's devotion to Mary.
What else can you see in Wadowice?
While in Wadowice, you must visit the Basilica in which young Karol not only served as an altar boy but also was the setting for his spiritual growth as a young man. Its oldest parts date from the fifteenth century, but the main body has a late Baroque style. Today, the Wadowice Basilica houses relics of canonized the Polish Pope. There is also a statue of the Pope in front of the Church.
Trips to Wadowice
Going to Wadowice with a private Krakow guide is a great way to get more out of your stay. In an organized tour, you can combine your time in Wadowice with a side trip to the sanctuarium in nearby Kalwaria Zebrzydowska. It's an exceptional place and is listed on the UNESCO List of World Heritage Sites. Kalwaria also played a unique role in the life of Karol Wojtyla as well. A trip to Kalwaria is in a sense an extension of the footsteps of John Paul II. Learn more about these sites and more at – http://guide-krakow.com
You might be interested in Car Leasing & used bmw x1 Newquay